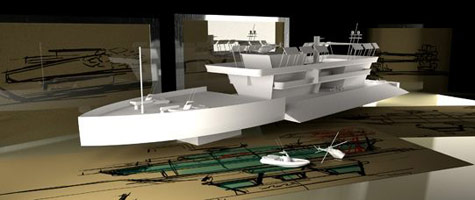 Ever since announcing the 30m cruising catamaran concept, My Way, Italian architect and industrial designer Filippo Taiani has been hard at work on his latest, and perhaps greatest work ever. Called the Nemus Dianae, this 80m superyacht is both the newest, and perhaps the most unusual luxury yacht ever undertaken.
Inspired by the great boat used by Caligula when sailing along the Nemi Lake in Italy, this vessel is truly just as awe inspiring as the one of old. It will be built in two distinctly different sections. The hull itself will contain all the technical equipment, the navigational systems, the motors, and the electronics for the entire ship. The hull will also include to large crew quarters. The entire superstructure is to be built with the owner and their guests in mind.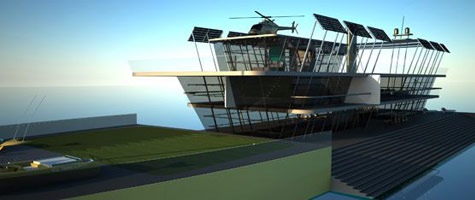 The point of the Nemus Dainae is to create a yacht like no other super yacht on earth, focusing more on interior spaces, as well as how they link up with exterior designs. There will be two VIP suites for guests, sitting forward. There will also be a large swimming pool, gym, as well as a Jacuzzi on this main deck. Above will be a spacious salon, and below will be more guest suites. The top deck is mostly dedicated to the owner's cabin, with luxurious accommodations normally found in a land apartment. The roof of the owner's suite will also double as a helipad.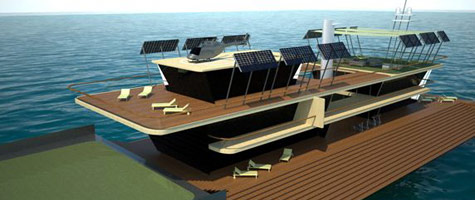 One of the more interesting design concepts will be how much contact with the sea will be. Both the bulwark as well as the sides will fold down, with steps going right down to the ocean when the Nemus Dianae is at anchor. This will give the illusion that there are stair cases going right into the water. When under way, the side hulls go into an upright position, with the stairs conveniently concealed. Mechanisms that would be normally used on ferries are used to make the sides completely safe and seaworthy during travel.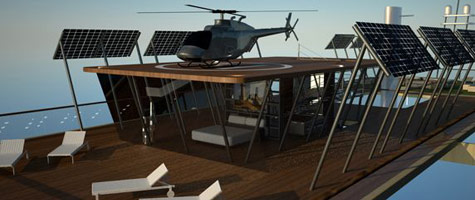 Now most people who think about the design for the Nemus Dianae will turn to how much of an impact to the environment it will have. Well Filippo Taiani has also thought of this, including solar panels, as well as hybrid motors to ensure its green credentials and lowering the overall environmental impact wherever it happens to be.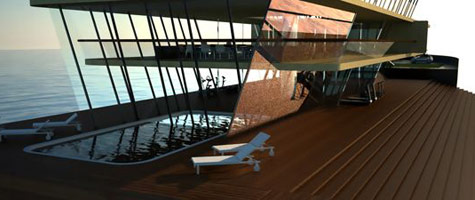 It is able to cruise at up to 13 knots, but cruising is not the objective, but rather to have the most luxurious accommodations on the water. It will offer the same kinds of amenities that you would normally find at any five star hotel in Milan.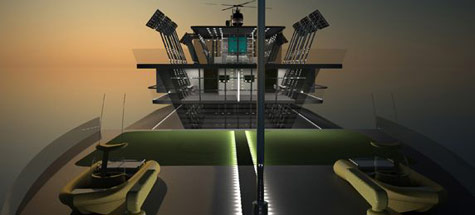 Any owner that wants to sit in the lap of luxury, while still having a sense of being Eco friendly, the Nemus Dianae is the super yacht for you.
* * *
Related links:
Filippo Taiani