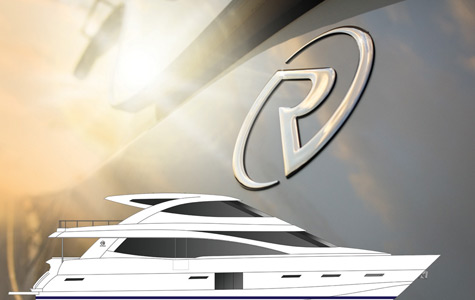 Riviera, Australia's largest luxury yacht builder has recently announced a new range of luxury cruisers, the Riviera Motor Yacht, with sizes ranging from 73′-85.' All of these models will have a offer owner's a wide range of options, and are being designed by their newest product development team at the Coomera headquarters, and built under the strictest Riviera supervision at a specialty yard in Taiwan.

Drawing from more than 30 years experience, and almost 5,000 vessels already built, this new line is expected to be as if not more impressive. Just some of the luxurious spaces will include a completely enclosed flybridge, interior as well exterior lounging areas, and a minimum of four full cabins with three to four bathrooms, plus large crew areas.
There are a wide array of flybridge options that will be offered to owners. Whether you need a large garage for your tenders and other water craft, or more living and entertaining options for the exterior spaces, such as bars with refrigerators, extra seating and lounging or a full entertainment center. There will also be an extensive U shaped galley amidships, separate dining area, and massive saloons.

Now while the Riviera 73 and Riviera 78 models will have many standard inclusions like fully air conditioning throughout the ship, large flat screen TV's in all the staterooms with complete audio and video systems, the 85 sets itself apart from the rest. Here are just a few of the premiums that come standard with this superyacht. One of them is the extremely large Sky Lounge area. There are three lounges is two separate areas. Then you have a walk in wet bar, opening out to the aft deck. There is a 40″ LCD television on the port side, and the deck space can fully accommodate the optional 6 person spa. Standard is the forwards seating, large sun pad area on the port side, and room for a 4.5meter tender if needed. A spiral staircase aft of the single seat pilot's area leads down into the main saloon.
While we can talk all day about the luxurious accommodations throughout, there are a few main things that will really grab your attention. First is the large U shaped galley. There are a number of standard features that go well above and beyond what a normal galley would offer. Not only does it have a four burner stove and oven but also a convection microwave. A full size double door refrigerator, large dishwasher and even a trash compactor make this galley state of the art, whether you are feeding the ten guests in the formal dining area, or eight in the informal dinette area. There is even a bathroom on this level.

The next important feature of the Riviera 85 Motor Yacht is the staterooms. There are four of them, with a queen double on the port side, a twin cabin on the starboard side. Forward of these is the VIP stateroom, which includes a queen double, walk in closet areas and even pigeon lockers on each side.
The master suite is amidships and takes up the whole beam of the yacht. Dominated by a king sized bed, the entire aft area comprises the bathroom. It has his and hers everything, from the basins, to the toilets, and the walk in wardrobes. One side has a full bathroom, the other a full shower area, with two entrances, one on each side. Between these, facing the bed, is cabinetry hiding a large 40″ LCD television with an included Bose sound system.

Specification of the Riviera 85 Motor Yacht:
Length Overall: 27.78 m/91′ 2
Beam: 6.40 m/21′ 0″
Maximum Draft: 1.68 m/5′ 6″
Dry Weight: 69,200 kgs/152,240 lbs
Fuel Capacity: 9,460 l/2,500 gal
Water Capacity: 1,800 l/475 gal
Sleeping Capacity: 8-12 persons
Engines: 2 x MTV 8V 2000 M93, 895 KW, 1,220 HP each
* * *
Related links:
Riviera
Photo: riviera.com.au