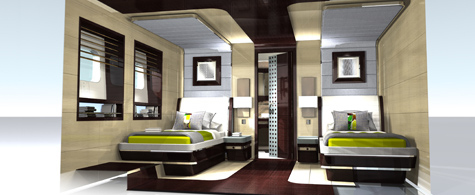 Heesen Yachts announced that Bannenberg & Rowell have been chosen to create a strikingly different style of interior decoration for the new Heesen YN 15747, a 47-metre full-displacement superyacht. Mr. and Mrs. Heesen appointed Bannenberg & Rowell for the task because they particularly appreciate the richness and variety of materials typically used in this company's interior designs, and the way that they are brought together to create an eclectic and pleasingly integrated atmosphere.
In early February 2010 Frans Heesen, former owner and founder of the Heesen shipyard said: "I am delighted to start the new year by announcing the contract for my own new boat, which my wife and I signed some days ago! I am planning to spend many joyful days with my family and numerous grandchildren aboard this beautiful 47-metre." This is the second yacht under construction for Frans after the 4400 series, My Petra, which was delivered to him in June 2009.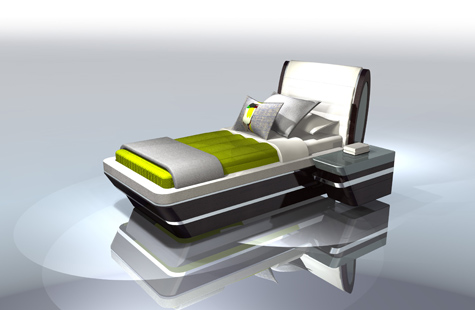 Superyacht YN 15747 is the eighth vessel in Heesen's highly successful 47-metre full-displacement series and, as such, is the sistership to YN 14347, M/Y Blind Date (2009); the award winning YN 14047, M/Y Elandess (2008); YN 13547, M/Y Mon Plaisir (2007); YN 13147, M/Y Let it Be (2006); and YN 12247, M/Y Yalla (2004). She is also the sister-ship of the two hulls currently under construction: YN 15147 scheduled for delivery in 2010, and YN 15347 scheduled for delivery in 2011.
The design process started in the guest accommodation on the lower deck, with its guiding inspiration coming from diverse sources, including 20th Century industrial Dutch design, optical geometric studies, and shapes inspired by industrial components such as formers and frames. These elements will come together to create a dynamic interior concept that, at the same time, is comfortable, approachable and inviting.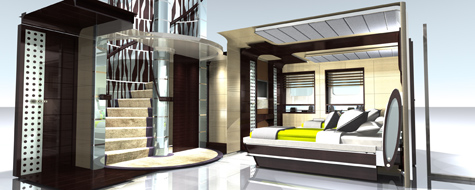 The general arrangement of the yacht, by Omega Architects, has positioned the Owner's suite on the upper deck in view of the fact that this area, more remote from the lower deck guest cabins, will offer the owners more privacy and calm during periods when their numerous grandchildren are on board. To the benefit of the younger members of the family, the forward area of the main deck that is usually dedicated to the master stateroom has been transformed into a media and games room.
* * *
Related links:
Heesen Yachts
Bannenberg & Rowell Design
Omega Architects
Photo: heesenyachts.nl