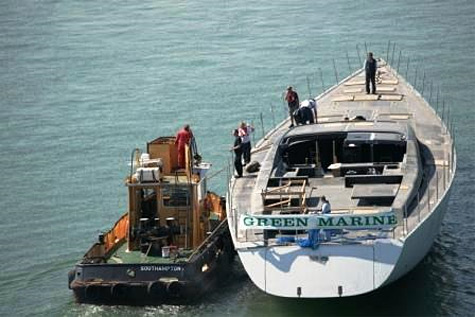 The hull of the 42 meter sloop Sarissa has been launched recently by Green Marine. The sailing yacht will be completed by Vitters Shipyard. She is scheduled for delivery to her owner in 2011.
Sarissa was developed in cooperation with Tripp Design Naval Architects and Rhoades Young for interior design.
The new sloop features Nomex core for the structure and simpler, lighter systems. Composite rigging, lifting keel and lightweight construction make Sarissa one of the most anticipated classic sail yacht.
The lauout and deck plan of the sloop is modern and family-friendly. The interior layout includes main salon, a dinning room, a spacious owner's suite, one guest suite and a children cabin. To add spectacle to the culinary arts a wall of the dining room can be removed to merge the space with the galley. The aft cockpit can be transformed into a swimming pool for the kids if it is not possible to swim outside. The fore area will be home to six crew sharing three cabins en suite in a professional and spacious surrounds.
Specification of the Sarissa:
LOA: 42.6 m/139.7 ft
Beam: 8.6 m/28.2 ft
Draft: Lifting Keel
Concept: Tripp Design
Interior: Rhoades Young Design
Builder: Vitters Shipyard / Green Marine
Construction: Carbon on Foam
Launch: 2011
* * *
Related links:
Vitters Shipyard
Tripp Design Naval Architects
Rhoades Young
Green Marine
Photo:Dave Monks/Green Marine