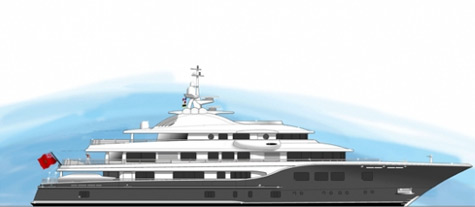 Superyacht Florida, launched on 27th May 2010 by Icon Yachts, was christened Baton Rouge.
Baton Rouge features naval architecture by Jouke Van Der Baan; her exterior design was created by Tim Heywood, while Redman Whitely Dixon developed the interior layout.
The new superyacht is the second of three superyachts in the Icon 62m range launched by Icon Yachts. She features steel hull with an 11.40 metre beam and a draft of 3.50 metres.
Each of the Icon yachts is built using a same optimised platform. This way the hull shape below the waterline, propulsion system, machinery, and crew spaces would all share common design. However the interior design, the shapes of the deckhouse and the hull above the waterline is custom designed.
Specification of the motor yacht Baton Rouge:
Length Overall (m): 62.50
Length Waterline (m): 51.98
Beam (m): 11.40
Draught Max (m): 3.50
Hull Material: Steel
Shipyard: Icon Yachts BV
Naval Architect: Jouke van der Baan
Exterior Designer: Tim Heywood Design Ltd.
Interior Designer: Redman Whiteley Dixon Ltd.
* * *
Related links:
Icon Yachts
Redman Whiteley Dixon
Photo: iconyachts.eu