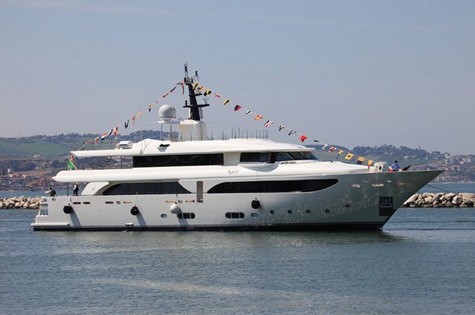 Italian shipyard CRN launched superyacht Kate, a brand associated with the Ferretti Group. The official launch of this yacht took place in April of 2010 and was not a public ceremony but a private one. It took place only weeks after the launch of the 60m CRN 128 megayacht Mau. The owner's reps were on hand, along with many of those who had worked on constructing, building and designed this spectacular vessel.
The yacht has grabbed major attention because of its distinctive yet classic features, expansive interior and exterior, and top performance. It has wide appeal for those who want luxury as well as the ability to entertain and accommodate much more than a few visitors (it can hold as many as 10 plus the owners). Also appreciated? The very respectable speeds which can be attained while cruising or moving along at top speeds of over 15 knots.
Superyacht Kate is hull number 6 of the CRN 43 line. The boat is equipped with two C32 motors (Caterpillar brand). For those who want to move quickly, the maximum is 15.4 knots, although usual cruising speed is closer to 14 knots.
When it comes to the materials used in building this vessel, quality was again the focus, as it was throughout the design of the yacht. The hull is made of GRP, a composite type of material, created under the supervision of the CRN technical office and Studio International Zuccon Project (they also designed the yacht's exterior and interior layout). The CRN shipyard specializes in building quality pleasure megayachts and has an outstanding reputation.
CRN has won international awards for their yacht and ship designs. They are constantly innovative, having been in business since 1963. With a strong focus on overseeing every phase of yacht design, heir vessels are known for integrated interiors and exteriors. They are truly like floating works of art sailing over the waters surrounding them.
This is a yacht which showcases comfort throughout. There are four decks as well as a sun deck which doubles as a solarium. Because owner and visitor satisfaction is of utmost importance, the sun deck also has large umbrellas. The interior is no less impressive, with modern geometry and design lines. Luxury abounds, including a wide number of leathers and other unique materials throughout the inside of this sleek beauty.
Interior design focuses on light colors contrasted with red pinewood. Marble details abound as well as striking silk carpets Neutral colors in classic tones of grey and light taupe add to the timeless appeal of the decor. There is also a quality fitness area equipped with state of the art machines. It isn't necessary to stop and get off the yacht to stay in shape. Of course, after a workout it is so easy to relax on a vessel with so many inviting areas for water front views as well as the ability to enjoy them in extreme comfort.
Even on cloudy days, the yacht itself is a beauty and totally enjoyable. The owner's suite is a gem, with four guest cabins. As many as ten people can be accommodated on this spacious yacht, as well as up to nine crew members. One amazing feature in the owner's suite is a terrace with a breakfast set for dining enjoyment with views of the water.
* * *
Related links:
CRN shipyard
Zuccon International Project
Photo: crn-yacht.com