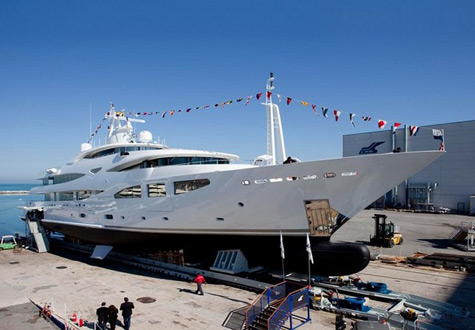 The 60 meter long superyacht dubbed Mau was recently launched by the renowned CRN shipyard in Ancona Italy. Costruzioni e Riparazioni Navali, better known as CRN, has been a part of the Ferretti Group since the year 1999 and is noted around the world as being one of the primary luxury yacht builders.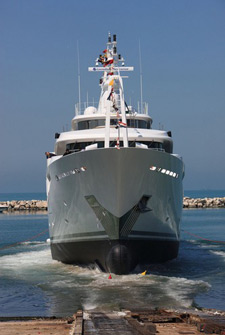 CRN 128, or the Mau, an elegant motor yacht, is the fifth 60 meter effort coming from CRN's Ancona shipyard. The sleek design of the ship was a joint effort between the builder and Zuccon International Project and it features a sporty bow along with several decks and wide open spaces for guests to enjoy.
The entire interior of the superyacht was designed by Laura Sessa Romboli and can be described as both comfortable and extravagant.
The Mau can accommodate up to 14 crew members and 12 guests at a time within five double guest cabins and one owner's suite, which features a terrace built on a platform that provides guests with a stunning, expansive view of the ocean ahead. The platform is innovatively designed and able to fold up 90 degrees to become a balcony and is definitely one of the yacht's highlights.
The CRN 128 60 meter superyacht Mau teems with luxury, comfort, and countless amenities to give guests the ultimate and most memorable yachting experience wherever the destination.
CRN 128 Mau Superyacht Specifications at a Glance:
Length Overall: 60 m/196.85 ft
Length Waterline: 49.70 m/163.06 ft
Beam: 10.20 m/33.46 ft
Draught Max: 3.00 m/9.84 ft
Hull Material: Steel
Superstructure: Aluminium
Guests: 12
Crew: 14
Engine: 2xCaterpillar 3512B 2×1,575 HP/2×1,174 KW
Max Speed: 15 knots
Cruise Speed: 14 knots
Range: 3,000 nm at 14 knots
Fuel Capacity: 107,000 l/28,269 gal
Water Capacity: 20,000 l/5,284 gal

* * *
Related links:
CRN shipyard
Zuccon International Project
Photo: crn-yacht.com