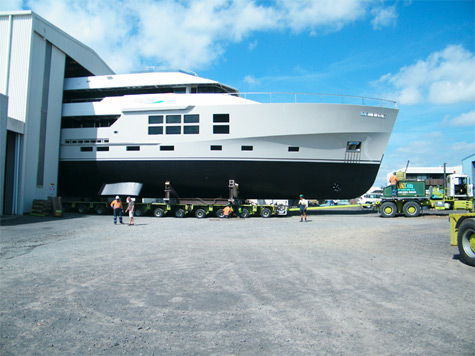 The 45m superyacht Big Fish was launched yesterday by renowned yacht builder McMullen & Wing. The yacht is scheduled for delivery to her owner in May 2010.
McMullen & Wing Ltd was founded in New Zealand in 1969. The company emerged as a pioneer in aluminium yacht construction. McMullen & Wing also built the first three composite-hulled racing yachts for America's Cup Challenge in 1985.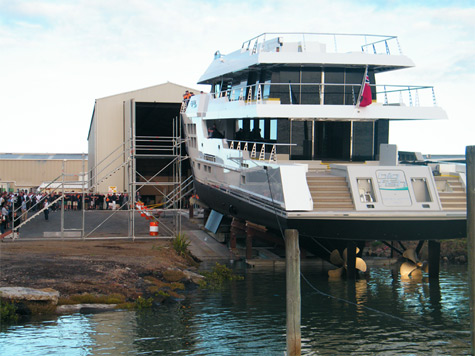 The Big Fish was designed by Greg C. Marshall Naval Architects, Inc. of Victoria, BC and is the first project of Aquos Yachts. Aquos Yachts is a design, construction management and marketing services company specializing in innovative, long-range, eco-friendly, cost-effective vessels. The 45-meters yacht has more space and more features than any other yacht in its class. The accommodation area of the yacht is about 5,500 sq ft.
She offers 5 luxury cabins in its normal format and 3 huge suites when converted. The Big Fish also has a spacious sun deck, jacuzzi big swim platform, a large tender garage and the Observation Pod, 50 feet above water.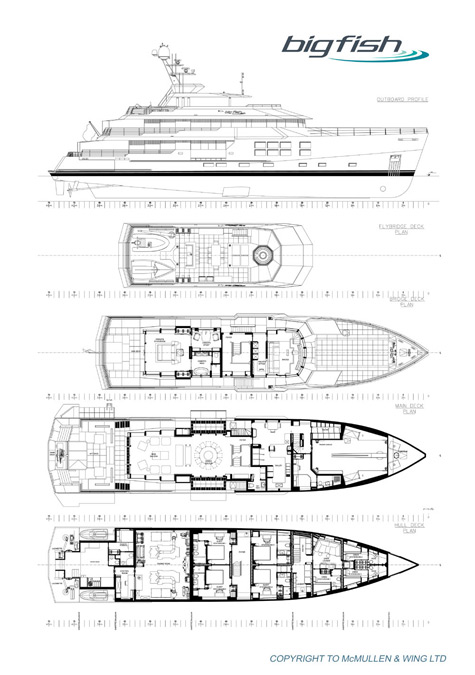 Much of the deck area is covered with infused stone, created by Stone Decking Systems. This material is low in maintenance, low in cost, low in weight, non-skid even in a driving rain and high in ecological value.
Following Big Fish, a second Aquos Yachts 50m steel hull will be started shortly at McMullen & Wing, which has negotiated rights to build a range of Aquos Yachts from 35m to 55m.
Specification of the Big Fish:
LOA: 45.0m (147′ 7″)
LWL: 42.0m (140′ 9″)
Beam: 9.0m (29′ 6″)
Draft: 2.56m (8′ 5″)
Construction: Steel Hull / Aluminum Superstructure
Displacement: (1/2 load) 420,000kgs
Propulsion: 2 x Caterpiller 3508B DI-Ta Engines, B-Rating
Generation: 2 x KiloPak 125kw.
Fuel Capacity: 92,000 Ltrs.
Freshwater Capacity: 11,400 Ltrs.
* * *
Related links:
Aquos Yachts
McMullen & Wing Ltd
Photo: mcmullenandwing.com