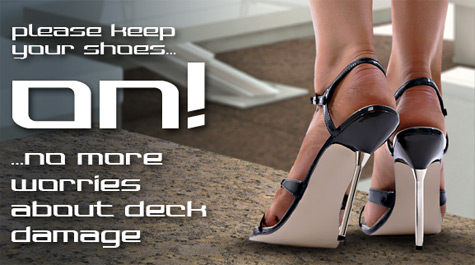 Have you ever wondered what is the main material of the yacht interior? I think it is different types of wood, or plastic, or wood and plastic together. But developers from Stone Decking Systems won't agree with me, because they introduce the world's first epoxy-impregnated granite decking.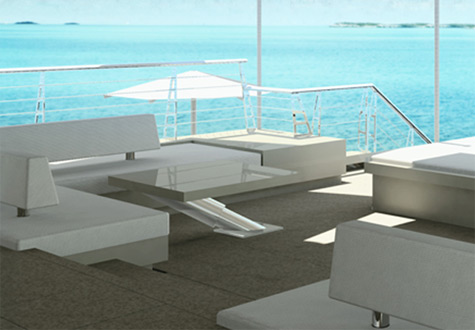 The new decking material is virtually indestructible. It's low in maintenance, low in cost, low in weight, non-skid even in a driving rain and high in ecological value. The current projects, designed with new decking technology are two yachts: Big Fish (AY45m) and Star Fish (AY50m).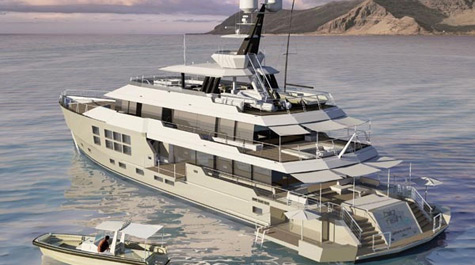 Big Fish is the world's first LEV – Luxury Expedition Vessel, designed by Aquos Yachts. Aquos Yachts is a design, construction management and marketing services company specializing in innovative, long-range, eco-friendly, cost-effective vessels. The new 45-meters yacht has more space and more features than any other yacht in its class. The accommodation area of the yacht is about 5,500 sq ft. Big Fish can cruise around the entire globe with only one stop to refuel. She is also environmentally friendly with low fuel burn, LED lighting and solar panels.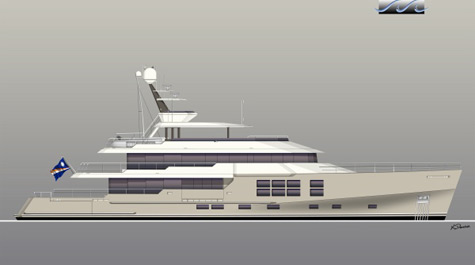 One of the leading features in the Aquos 45m line is its unique tender stowage. Under a granite-topped lid raised by four hydraulically-driven stainless posts is a 33×15 ft (10×4.5 m) stowage compartment. A cleverly hidden, 5-ton crane mounted under the compartment's lid provides ease and safety in loading and unloading this compartment. When the tender is being towed, this space can house the Sub Aviators mini submarine, or the Icon lightweight folding carbon flying boat, depending on the mission and the interests of the charter guests.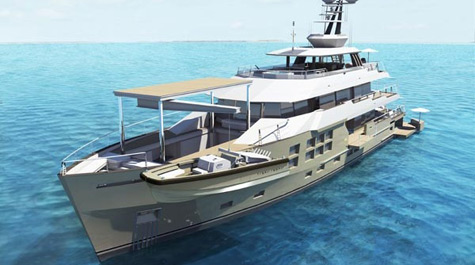 At more than 12m meters, Big Fish offers the widest and most spacious swim platform ever built on a 45m yacht. Sheathed in indestructible granite, the yacht's normal-sized swim platform expands dramatically by port and starboard stern quarters, which unfold to join the platform structure. When fully unfolded, the entire structure is capable of simultaneously supporting numerous water and boating activities.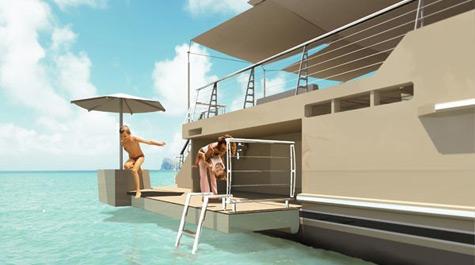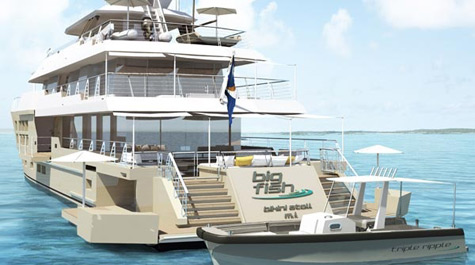 Big Fish has 5 luxury cabins in its normal format and 3 huge suites when converted – the biggest space available in any 45m yacht. She also has a spacious sun deck, jacuzzi and the Observation Pod, 50 feet above water. This "nest" is comfortable and it is perfect position to view whales, dolphins and the endless species of stunning wildlife found in a marine environment.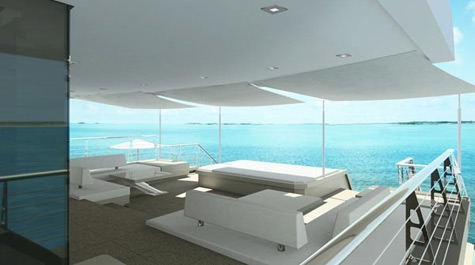 Big Fish will be launched in April 2010.
Another project of Aquos Yachts is Star Fish which will continue to expand the boundaries of the yachting experience. She will be launched in 2011.
Specification of the Big Fish:
Naval Architect: Gregory C. Marshall Naval Architects
Builder: McMullen & Wing Ltd
Construction: Steel hull, aluminum superstructure
Length Overall: (LOA) 45.00m (147'7")
Beam: 9.00m (29'6")
GRT: 497 tons
Range: 9200nm @ 8 knots
Classification: Germanischer Lloyd
Main Engines: Caterpillar 3508B DI-TA, 1050hp@1600rpm
Fuel Tankage: 94,000 litres
Stabilization: Quantum Zero Speed Stabilizers
Safety & Security: Night Navigator 3 system
Tender: 28' custom M&W tender
Accommodation: 5 staterooms
* * *
Related links:
Aquos Yachts
Stone Decking Systems
Foto: stonedeckingsystems.com, aquosyachts.com