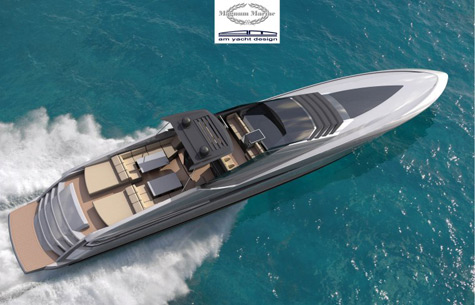 Some yachts have a lot of room while others seem to be very crowded. If you entertain on the yacht often you will want something that can accommodate a certain amount of people. Since you pay so much for your yacht you want to make sure that it has all the room you will need, whether it is to entertain a crowd or if it's just the two of you. If you are looking for a larger yacht that is able to comfortably hold a crowd and is energy efficient then you will want the Magnum 100.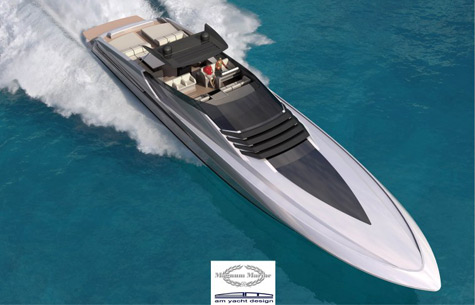 It is not due to be released until 2012, but it is already the most popular yacht that Magnum is offering. The Magnum 100 is popular because it is the largest yacht that Magnum has to offer. Alberto Mancini, an Italian designer is focusing more on more livable space at the cockpit. Alberto Mancini is a young designer and he knows what people are looking for.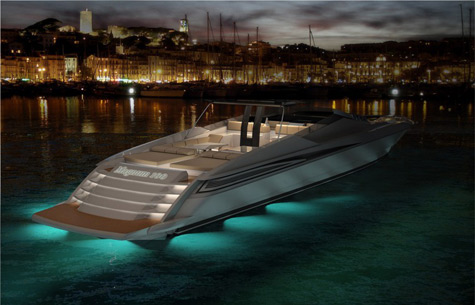 The main focus will be on more living area for sitting, viewing, as well as dining. This yacht is perfect for entertaining or just enjoying an evening out as a couple. There are spacious rooms inside because it is open and allows you to be free to enjoy your space without confining walls.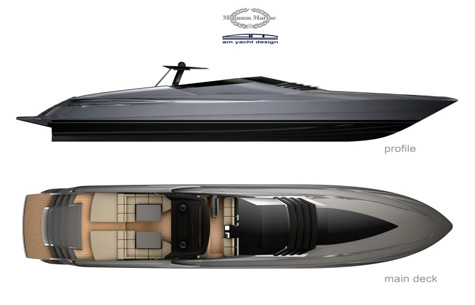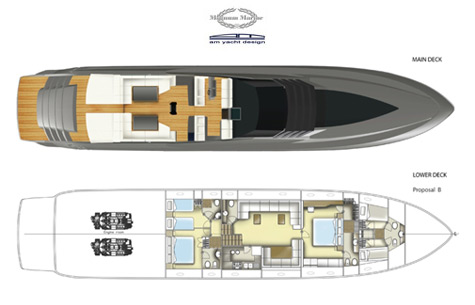 Now it's time to talk about the engine. You will love the twin MTU diesel at 2600 horse power. The top speed on the Magnum 100 will reach around 55 mph. This large yacht will be eco friendly. This will cause less exhaust fumes so you can help protect the earth while you are enjoying yourself out on the water.
The Magnum 100 is created with foam and carbon fiber which is a lighter yet stronger material then the other Magnum yachts in the past. This will allow for more horse power because nothing is weighing it down. Using these materials will save more than 20% of the weight compared to other models. If you don't want to drive fast the Magnum 100 offers an electric engine that can be operated on slow speed so it runs quietly as well as smoke and fume free when you need it to. There won't be exhaust fumes rising up as you sit in slow drive.
The interior uses florescent lighting to help save energy. There are four double staterooms, as well as a reception area and salon area with very nice crew cabins so you can enjoy yourself while you are on the yacht. The owner will be able to customize their yacht to suit their needs.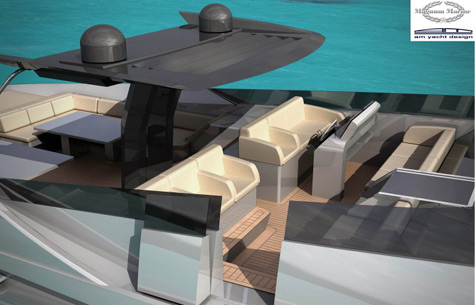 Magnum offers several models to choose from but none is as large as this yacht. It is built for room and relaxation. You should be able to enjoy yourself when you are on a boat. This boat offers you just about everything that you would want.
You should enjoy being out on the water. If space has always been a problem for you on the yacht then you will love the idea of more room.
Specification of the Magnum 100 yacht:
Hull length: 95 feet (29 meters)
Beam (max.): 20 feet (6.1 meters)
Fuel Capacity: 2.000 gallons (7.570 liters)
Fresh water capacity: 400 gallons (1.514 liters)
Displacement: Approx. 147.000 Lbs (66.7 tons)
Power: Twin MTU 16V2000 M94 2.600 HP each
Drives: Ameson Surface Drives ASD 16
Estimated top speed: 55mph (48 knots)
Optional power: Tree MTU 16V2000M94 2.600HP each, Estimated top speed: 63 mph (55 knots)
Optional Electric Harbor Drive: Gearboxes with auxiliary electric motor run off generator for virtually silent and smoke free running in and out of port
* * *
Related links:
Magnum Marine
Alberto Mancini design
OceanShaker.com: Magnum 100' Yacht: Ecofriendly, Safe, Fast – 02 Nov 2009
Photo: magnummarine.com