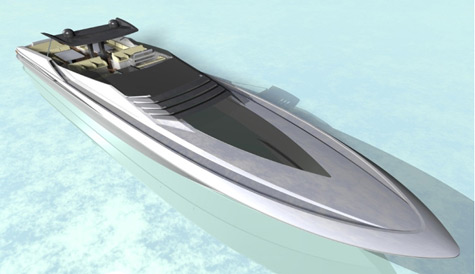 Magnum Marine has revealed its largest hybrid Magnum 100' yacht. The yacht has been designed to be the most environmentally friendly, the most comfortable, the most seaworthy and fast new yacht in the world.
Magnum Marine is a company which has a 50 years old history. The company is famous for its quality construction, safety, seaworthiness and performance.
The construction of Magnum 100' is made from lightweight but strong materials such as composite foams and carbon fiber. This will reduce the weight of the yacht for more than 20% compared with similar models. The yacht's interiors also feature energy-efficient LED and CFL lighting for better efficiency.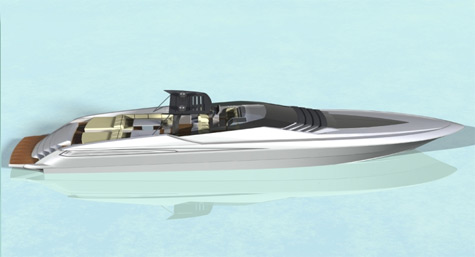 For less drag and therefore improved fuel consumption, Magnum installs surface drives which not only reduce consumption but also increase top speed. The yacht can reach a top speed of 55 knots. As optional equipment the new yacht will have an electric "harbor" drive, which is specially designed to propel the yacht at slow speeds and triple MTU diesel engine in case the owner requires a boost in performance and speed.
The interior of the yacht will include four very large double staterooms, heads, reception and salon areas and comfortable crew cabins.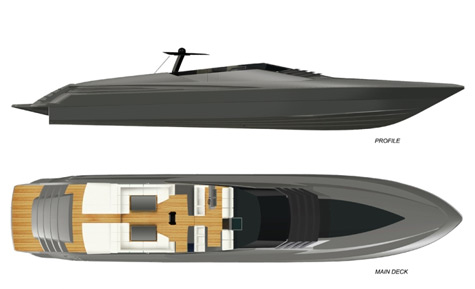 Magnum 100' is designed by Italian designer Alberto Mancini and is expected to be available by 2012.
Specification of the Magnum 100′:
Hull length: 95 feet (29 meters)
Beam (max.): 20 feet (6.1 meters)
Fuel Capacity: 2.000 gallons (7.570 liters)
Fresh water capacity: 400 gallons (1.514 liters)
Displacement: Approx. 147.000 Lbs (66.7 tons)
Power: Twin MTU 16V2000M94 2.600 HP each
Drives: Ameson Surface Drives ASD 16
Estimated top speed: 55mph (48 knots)
Optional power: Tree MTU 16V2000M94 2.600HP each, Estimated top speed: 63 mph (55 knots)
Optional Electric Harbor Drive: Gearboxes with auxiliary electric motor run off generator for virtually silent and smoke free running in and out of port
* * *
Related links:
Magnum Marine
Alberto Mancini design
Foto: amyachtdesign.com