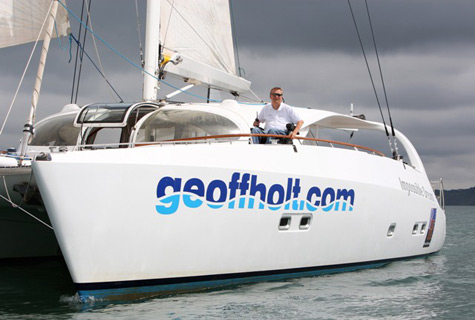 Geoff Holt, a 43 year old sailor and the first quadriplegic to successfully sail around Britain in 2007, now hopes to also be the first paralyzed person to swim across the Atlantic ocean (from Lanzarote to the Tortola in the Virgin Islands) on a specially designed catamaran – The "Impossible Dream" with a care-giver and a cameraman to record his stunning accomplishment.
Geoff Holt was paralyzed from waist down after a horrible accident that happened to him when he was just 18. Before the accident Mr. Holt sailed across the Atlantic three times. During his 2,250 km swim around Britain's coast Geoff nearly drowned but fortunately survived.
His amazing catamaran is 24 meters (80 ft) long. It has two highly advanced external navigation stations on both sides of the boat with information screens and GPS to tell him exactly where he is, what time it is in the current time zone, what weather is expected and so on. These stations also allow him to steer the vessel, control the engines and turn on the autopilot mode.
The ship also has a fully equipped bedroom that allows him to get into his electric wheelchair, on which he travels around the boat, as quickly as possible in case of an emergency. The "Impossible Dream" also has a wheel-chair accessible kitchen, and of course the main navigating station which is equipped with everything from the external stations, a computer, and a device to record and display wind speed and direction, boat speed, temperature, depth and progress. The main station has a scenic outlook with windows allowing up to 180 degree of view and a radar which displays whether there are any boats within the area, how fast and what direction they are going.
The boat can also be controlled and steered from a remote which Geoff Holt always has with him. "Impossible Dream" obviously has all the regular safety features like an inflatable raft , spare inflatable vests, fire extinguishers in almost every room and of course wheelchairs. Another cool feature of the catamaran is a small elevator which allows Geoff to go down to the lower deck. The design of the vessel is not only very practical and useful but also beautiful, with pure white exterior, wooden handrails and chrome window frames. Surely this ship is one of the best suited boats for a trip like this one.
Geoff Holt, now a professional sailor, first started when he was just seven years old. His first yacht experience was on Hamble River. That yacht soon became the house for his entire family. When he was just 16, in 1982, he was hired as a professional sailor for a 80 ft yacht for 13 euros per week plus included food and an on-board room. His first voyage across the Atlantic happened when he was 17.
Once 18 he hit his head while diving on a beach and broke his neck. Luckily his friend was around and saved him, otherwise Geoff would have drowned. While in the hospital he fell in love with the nurse that cared for him. They now have been married for 23 years.
During his first single handed trip around Britain Mr. Holt fell off the boat during the first day out in water and nearly drowned because his life vest failed to inflate. Geoff inspired many people such as Hillary Lister who is also a quadriplegic to sail around United Kingdom.
Let's see some videos about this courageous man:
Geoff Holt talks about his plans to sail the Atlantic: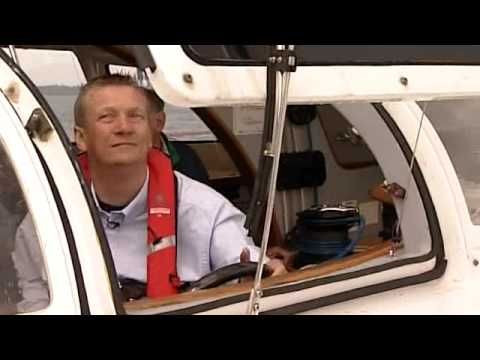 Geoff Holt completes his challenging sail round Britain: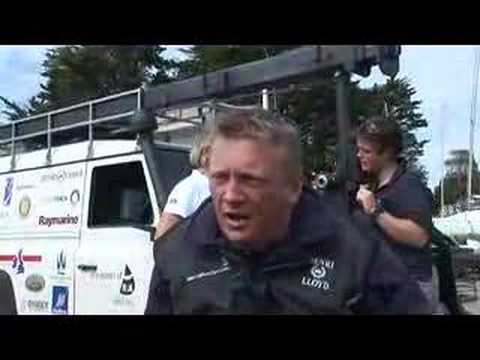 * * *
Related links:
Geoff Holt's official website
Foto: geoffholt.com