Sunborn Gibraltar was opened in March 2014. This is the latest 150 million euro addition to the revolutionary floating hotel fleet.
This 5-Star GL class luxury yacht hotel moored in an idyllic Ocean Village Marina, located off the southern tip of Spain, and has 189 guest rooms and suites, 90% of them with outdoor terraces or balconies, and full-height wall-to-wall glazing to capture the Mediterranean views.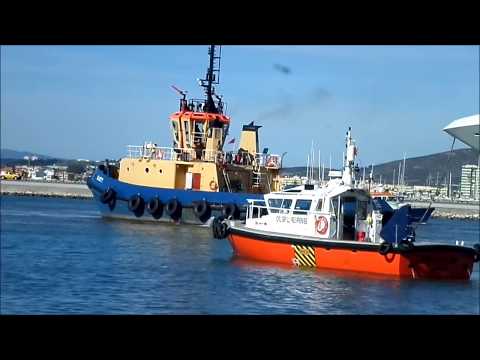 142 metres long and a height of seven storeys, Sunborn Gibraltar exudes five star elegance in its rooms, Spa and fitness centre, cocktail lounges, fine dining restaurants and grand ballroom – the great setting for a any celebration. Conferences and events are equally well catered for in flexible meeting space for up to 600 delegates, as well as the top floor Sky Restaurant which has a retractable roof and panoramic views.
Sunborn Gibraltar is an essential addition to the territory's hospitality offering and meets a growing demand for luxury hotel and convention facilities in a flourishing economic environment.
The vessel dwarf nearby yachts in the marina, with rooms cost between $300 and $3,000 per night.
The superyacht was originally built in Malaysia, and it's attached to the dock via six superstrong hydraulic arms, each weighing 8 tons.
Guests enter through an enclosed glass bridge and Brian Stevendale, Sunborn Gibraltar CEO, says once on board "they will feel no different to being in a five-star hotel on land."
Sunborn Gibraltar is the second project of the company. First Sunborn Yacht Hotel, the "Sunborn Princess", was moored at Naantali Spa Resort in Finland in 2002. Future projects are floating hotels in London and Barcelona.
photos: sunborngibraltar.com