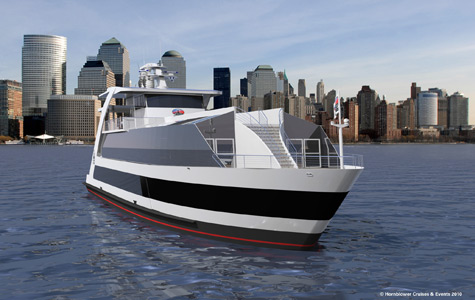 Statue Cruises, a subsidiary of Hornblower Cruises & Events, has signed an agreement with Derecktor Shipyards to complete the world's first Hybrid Ferry using Hydrogen fuel by April 2011.
New York Hybrid Ferry is not the first hybrid for Hornblower: in 2008 it launched the Hornblower Hybrid in San Francisco.
The new Hornblower Hybrid will run on a combination of energy generated by Tier 2 diesel engines, hydrogen fuel cells, solar panels and wind turbines.
"By combining hydrogen, solar and wind power, Hornblower will minimize its environmental impact as we transport guests to popular national landmarks like the Statue of Liberty and Ellis Island. Our goal is to reduce emissions to the greatest extent possible, with a goal in the future to eliminate them entirely during a cruising day," says Terry MacRae, CEO of Statue Cruises and Hornblower Cruises & Events. "We expect this pioneering project to inspire continued industry innovations. The technology on the Hornblower Hybrid is now scalable for other hybrid ferries, hybrid yachts and even hybrid tugs. Some may say we are at the turning point in modernizing marine technology and Hornblower plans to be leading the way."
The new Ferry is a part of Hornblower's larger corporate strategy to reduce the emissions of its fleet of vessels.
"This boat will produce minimal carbon emission and sip, rather than guzzle, diesel fuel. Along the way it will help make New York harbor a cleaner, safer and more pleasant place", said Gavin Higgins, Derecktor's vice president of business development.
The 600-passenger vessel will feature two spacious interior decks and an outdoor sundeck. The power for the Hornblower Hybrid will come from a proton exchange membrane fuel cell that turns hydrogen into electricity. In addition, solar panels and wind turbines will help power the vessel. The Tier 2 diesel engines kick in to cover additional energy needs.
Eco-friendly materials will be incorporated throughout, from recycled glass countertops, to Leadership in Energy and Environmental Design (LEED)-certified carpet and aluminum wall coverings that eliminate the need for wallpaper. Flat-panel LED video screens and LED lighting will minimize energy use, while long-life, low VOC paints will cover the boat's exterior.
* * *
Related links:
Derecktor Shipyards
Statue Cruises
Photo: statuecruises.com