Big sisters to the Krogen 55′ Expedition, two new additions continue the company's tradition of building fuel-efficient and comfortable, spacious yachts
Krogen 64′ Expedition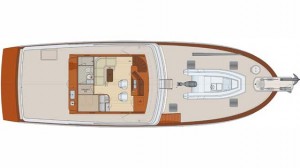 From the keel up, the Krogen 64′ Expedition and Krogen 68′ Expedition were designed by Kadey-Krogen Yachts to be handled comfortably by two people, yet also have a dedicated crew space. Both models are available in two, three or four cabin versions with two or three heads. Rugged, salty and with phenomenal sea keeping ability, these good-looking boats define quality and excellence in their class. Furthermore, the new models mark a "bigger" direction for the yacht builder. In fact, a Krogen 80' Expedition is currently in the early stages on the Kadey-Krogen Yachts drawing board.
"Truly, this project is a result of a collaborative effort between the Krogen family of Expedition series owners, prospective owners and the Kadey-Krogen in-house design team, led by naval architect Dave Glasco," said John Gear, principal and president, Kadey-Krogen Yachts.
Building upon the features customers love most about the Krogen 55' Expedition—the 360-degree pilothouse and massive galley—the Krogen 64′ Expedition and Krogen 68′ Expedition further enhance those spaces and offer more accommodations for guests and entertaining. For instance, a private guest or captain's cabin and head are available in the pilothouse of both new models. And steps down from the pilothouse, the portside galley, appointed with top-line stainless steel appliances including a four-burner commercial range, full-size refrigerator, dishwasher, microwave/convection oven, and trash compactor, remains amidships, directly adjacent to the saloon. This allows those who are cooking to remain a part of the conversation with those enjoying the saloon or with friends seated in the separate dining area starboard, opposite the galley.
"Kadey-Krogen founder Jim Krogen once said, 'to produce a successful design, you must make an honest determination of how the vessel will really be used,' and with these two new Expedition designs we have captured what our owners are after—to be at home on any sea," said Larry Polster, principal and vice president, Kadey-Krogen Yachts.
Krogen 68′ Expedition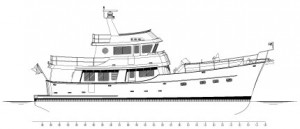 Out of doors, a large covered walkway along the starboard side provides exterior access from the aft deck to the enormous foredeck which is capable of handling a 15 or 17-foot tender on the Krogen 64' Expedition and 68' Expedition, respectively. Like the Krogen 55' Expedition, both new models incorporate three keels. Each of the skegs to port and starboard is counter-faired, such that the trailing end is specially shaped to impart a rotation to the water flowing into the propeller that is contrary to the propeller rotation. This Kadey-Krogen design results in greater fuel-efficiency than other keel forms.
Only the finest materials have been specified for construction and outfitting of the new models. John Deere continuous duty rated engines are standard in the engine room that claims more than six feet of headroom. Fuel polishing, oil exchange and fire suppression are also standard. Other major systems, such as stabilizers, hydraulic bow thruster and air conditioning are standard. And, like all Kadey-Krogens, the hull is built using vinylester and isophthalic resins, knytex mats and US-made Cook® UV-protected gel coat to protect the investment. To absolutely ensure hull integrity, critical areas of each and every yacht are reinforced with a special impact-resistant fiberglass mat containing Twaron®, the same fiber used to give body armor "bullet-proof" capability. Kadey-Krogen is among the very few boat builders who provide this level of hull reinforcement.
Having launched three successful Kadey-Krogen vessels in the last decade, Kadey-Krogen Yachts principal and vice president of operations Tom Button is anxious to reveal the first hulls of the latest models in the Expedition series. "The yacht building process is an exhilarating time, filled with decisions that will put your dreams in motion. A year will never go by so quickly," said Button.
Krogen 64′ Expedition Specifications
Length Overall (LOA): 66′ 11″ (20.40 m)
Molded length: 64′ 0″ (19.5 m)
Beam (Over Rub Rail): 19′ 10″ (6.04 m)
Draft: 5′ 6″ (1.68 m) Displacement (Half Load): 128,000 lb. (58,060 kg)
Ballast (Encapsulated Lead): 9,500 lbs. (4,400 kg)
Fuel: 2,900 gallons (10977.7 l)
Water: 500 gallons (1892.7 l)
Krogen 68′ Expedition Specifications
Length Overall: (LOA) 70′-4″ (21.5 m)
Molded Length: 67'-6" (20.6 m)
Beam: 21′-3″ (6.5 m)
Draft: 5′-10″ (1.8 m) Displacement (Half Load): 157,000 lb. (71,214 kg)
Ballast (Encapsulated Lead): 12,000 lbs. (5,443 kg)
Fuel: 3,000 gallons (11,356 l)
Water: 600 gallons (2,271 l)
photos: www.kadeykrogen.com