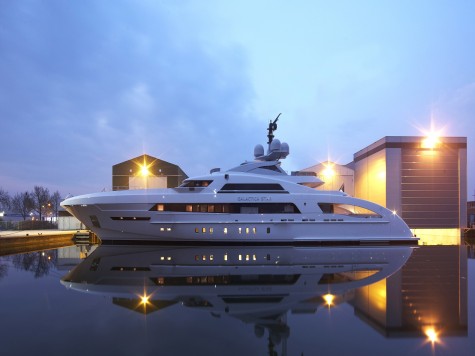 Galactica Star is the largest and most technicially advanced project to date of the Heesen fleet.
Powered by twin MTU M93 (4.300kW) main engines, Galactica Star, with a top speed of over 28 knots and a range at 14 knots of 4.200 nautical miles but using 20 per cent less fuel than conventional yachts represents a true revolution in the superyacht industry.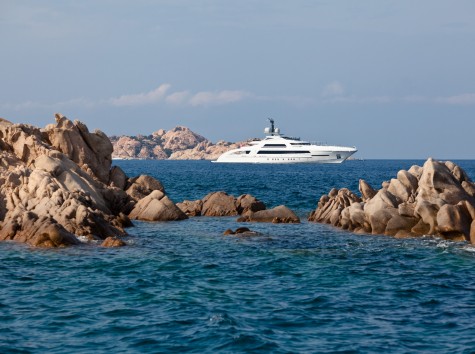 Heesen Yachts launched a new iPad App featuring th 65m Fast Displacement yacht GALACTICA STAR
In this app you can find information about the Galactica Star, explore the conception and construction, check out the details of her luxurious interiors, the technical specifications and other interesting details.
Galactica Star took less than 30 months to complete following the laying of the keel in early February 2011, but the design and development process began much earlier in the summer of 2009. All in all, the entire procedure from concept to completion took some four years.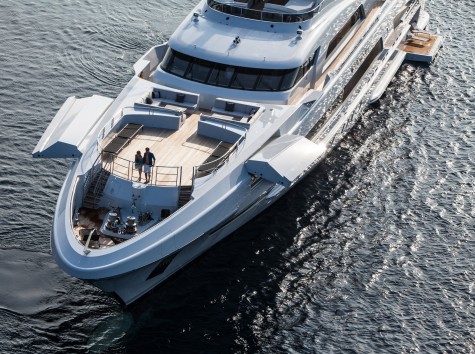 Galactica Star was officially launched on March 25, 2013, and less than six weeks later she left the shipyard in Oss to make her way down the Maas River for sea trails in the North Sea. Along the way she had to pass under several bridges, sometimes with just 40 cm of headroom to spare.
65 metre Galactica Star is remarkable in many ways, but her  Fast Displacement Hull Form (FDHF) represents the single most significant advance in the performance of large displacement motoryachts.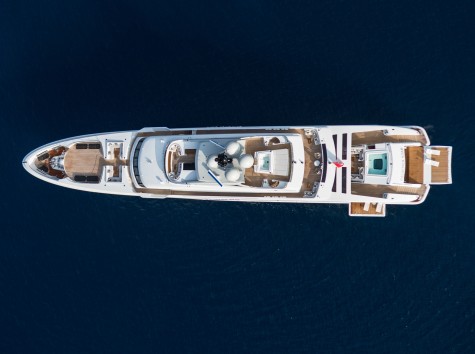 Van Oossanen Naval Architects worked closely with the Heesen technical team to convert these characteristics into a buildable superyacht, especially as Galactica Star is the first of its kind. The product of this collaboration is a unique hull form that combines the low-speed efficiency of a full displacement motoryacht with the maximum speed associated with a semi-displacement vessel.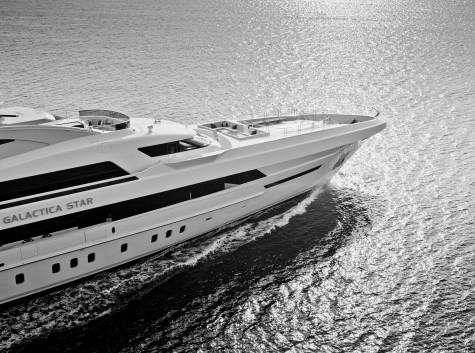 In naval architecture, an "efficient" hull is one with the least amount of hydrodynamic resistance.
A conventional displacement hull works well at low speeds, but resistance increases sharply at higher speeds. A fast semi-displacement hull, on the other hand, is inefficient at low speeds when the transom tends to sink deeper in the water.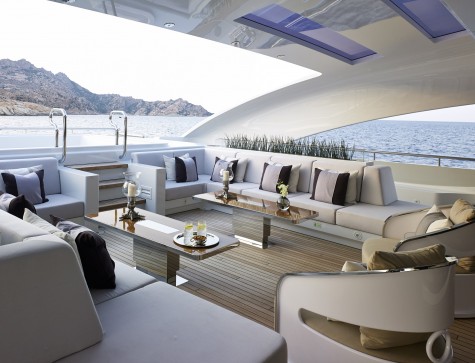 Although the details are a closely guarded secret, the ingenious solution behind the FDHF concept was to take a specific bulbous bow and combine it with a slender fore body and a shallow transom area that is barely submerged. Moreover, the gently rising buttocks that provide the shallow transom mean more room for bigger and more efficient propellers. A mixture of classic naval architecture and the very latest technology, Galactica Star's innovative hull form is the key to her efficiency and performance.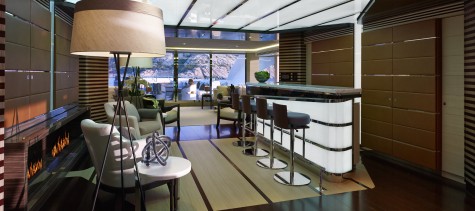 At first glance Galactica Star looks radically different from any other Heesen, but on closer inspection the exterior styling by Frank Laupman of Omega Architects reveals telltale motifs that are part and parcel of the Heesen brand heritage.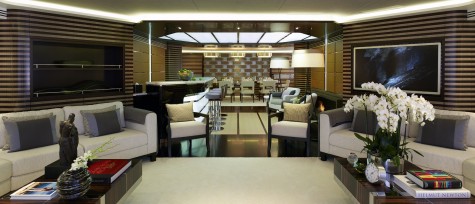 The renowned Bannenberg & Rowell design studio developed a striking form language aboard Galactica Star based on a select palette of materials and textures brought together in bold and sometimes surprising combinations.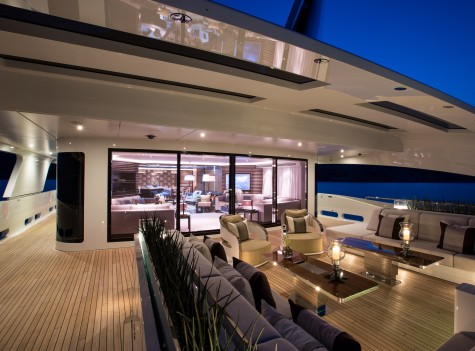 Specification: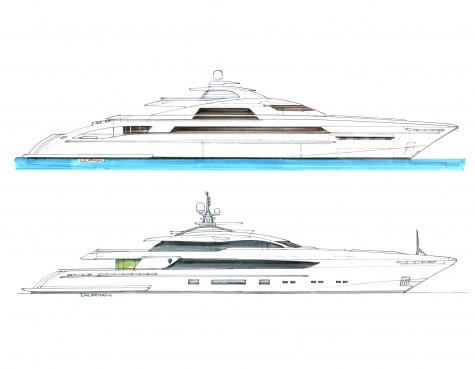 Hull type:
Fast Displacement Aluminium
Naval Architect:
Van Oossanen / Heesen Yachts
Exterior Styling:
Omega Architects
Interior Designer:
Bannenberg & Rowell Design
Classification:
ABS ? A1 Yachting Service ? AMS
Large Commercial Yacht Code LY2 / MCA
Hull:
Aluminium
Superstructure:
Aluminium
photos: heesenyachts.nl