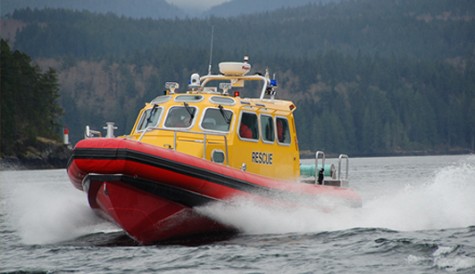 State-of the-art design and cutting-edge technology are second nature to award-winning superyacht designers, Ivan Erdevicki. However the Vancouver-based
company is gaining a growing portfolio of clients for its tough, sturdy workboats.

Weathertight, self-righting and ultra-robust. These are the reassuringly safe features of two high-speed workboats designed and built by the Vancouver-based workboat and yacht design company, Ivan Erdevicki Naval Architecture & Yacht Design Inc. Another stand-out characteristic is the vessel's self-rightingcapability after 180° rollover in extreme weather conditions.The two vessels – an 11-metre long SAR power-boat and a9-metre long RHIB – are driven by twin diesel/waterjets and twin outboard motors, 500 bhp and 250 bhp respectively.
They can reach speeds of more than 45 knots. The workboatsare custom-built for inshore and offshore operations. "They meet the stringent Lloyd's Register standards for Special Service Craft – categories G3 to G5 depending on loading and performance conditions. They also fully comply with ISO standards – design categories B and C,"  said Erdevicki's owner Ivan Erdevicki.
The vessels' self-righting ability is based on trials and tests with 3D computerised models. "We used the models to run 180° stability studies for different loading conditions, which allowed us to analyse the stability curves of our new designs and compare them with already proven designs," continued Erdevicki.
The two workboats have all-aluminium hulls designed to LR's SSC-G5 classi?cation – with deep V sections for dynamic stability. The forefoot of their keels and hulls is reinforced for strength and abrasion resistance when they are beaching. "The hull bottom structure is optimised to lower the vertical centre of gravity (VCG) and, at the same time, optimise the superstructure for the best longitudinal centre of gravity (LCG), in order to achieve a more eficient self-righting ability," added the Canadian designer.