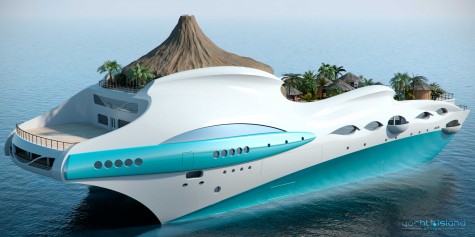 The island yacht concept is a remarkable creation that is the first of its kind in the world. This innovative floating platform is incredible and allows the latest extraordinary designs to be fulfilled to the maximum. The imaginative UK based yacht design company, which has created this magnificent experience, has taken yacht design to the next level. Ensuring that their customers have a once in a lifetime vacation aboard the incredible Island yacht.
The ideas that have been created for the amazing concept are incredible and ensure that every element of luxury has been catered for. The beautiful tropical island sits majestically on the floating platform. You will be unsure whether you are on board a beautiful luxury yacht, or within a sun drenched tropical paradise. Every element and feature on board the island yacht is designed to merge the two worlds perfectly.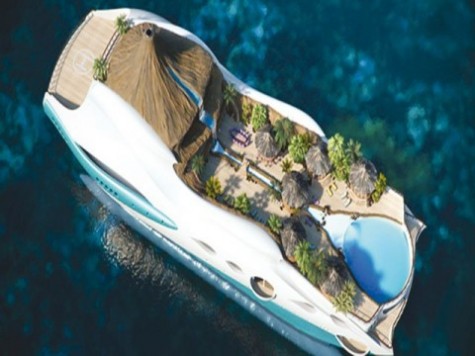 The idyllic, floating paradise includes many unique and stunning concepts, ensuring that you never tire of things to participate within.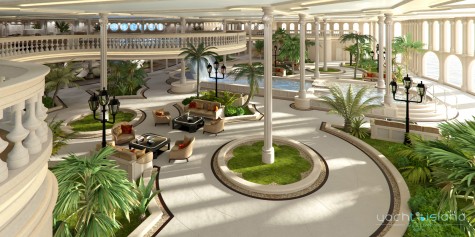 Every element of the island yacht is based around a tropical island and includes the beach front huts, a crystal blue pool and a magnificent volcano. The volcano is incredibly authentic and adds a touch of mystery to the island yacht. The clever design of the water flowing into the pool from the volcano completes the overall effect.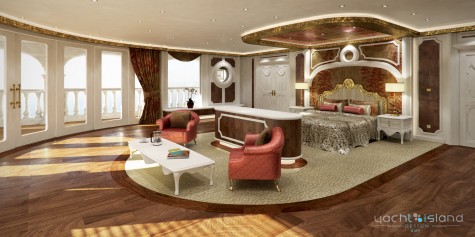 The facilities inside the yacht are as you would expect from a five star floating hotel. The yacht is packed full of VIP areas, spas, gyms, lounges and even a helipad for you to land your helicopter on. There are no elements of this stunning hotel that have been left untouched.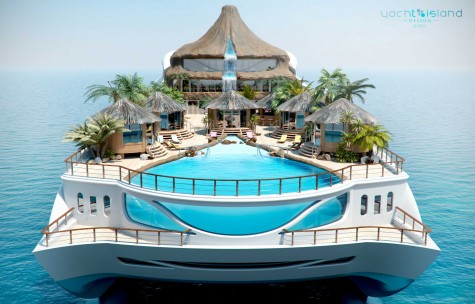 The rooms ooze luxury with every aspect considered, and you will want to spend time enjoying the comfort. Once you have ventured from your room, there is plenty to explore on board the island yacht.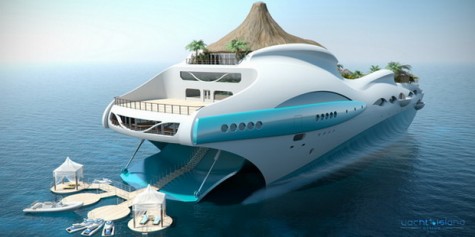 The stunning retractable beach deck on the back of the yacht creates the ideal area to relax and soak up the sun. You can easily venture into the sea from this platform and enjoy the refreshing water that surrounds you. Whether you want to have a tranquil swim, or enjoy the many water sports available this can be done with ease. The jet skis can be easily accessed ensuring that there is very little effort with any activity that you wish to participate within.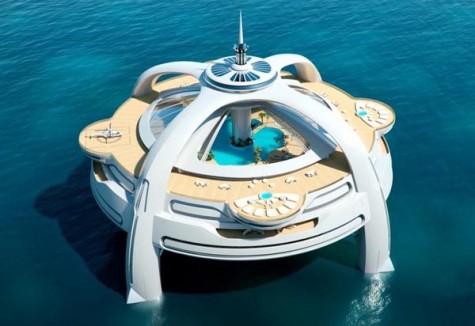 Many people enjoy the concept of cruising, and love to spend time on the water enjoying the floating hotels. However, many cruise ships have become dated, and travelers look for a new and exciting concept to enjoy.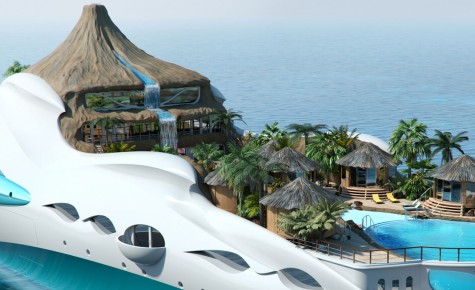 The island yacht provides the same unique travel experience, however, within a far higher class of luxury. You can enjoy your own paradise island whilst on vacation and ensure that you have the time of your life.
Photo: yachtislanddesign.com