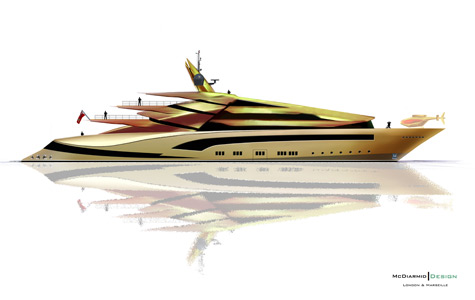 Alex McDiarmid has created a new 85m yacht concept that will surely impress any viewer.
Lizards, in particular iguanas were studied for their form, characteristics including stance, and colouring. The word "iguana" is derived from a Spanish form of the original Taino name for the species "Iwana". (The Taino People are an indigenous people of the Caribbean).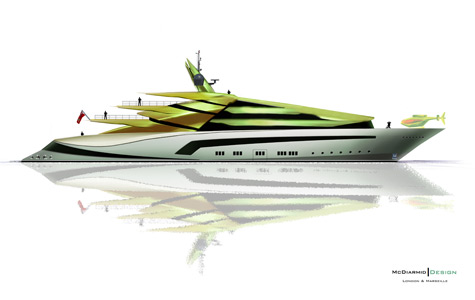 The designer says he was adamant about keeping a classic bow but wanted to really push some boundaries with the styling. The aft section of the hull, superstructure and 'Day Light Opening' / DLO window graphics are there to be explored in terms of style.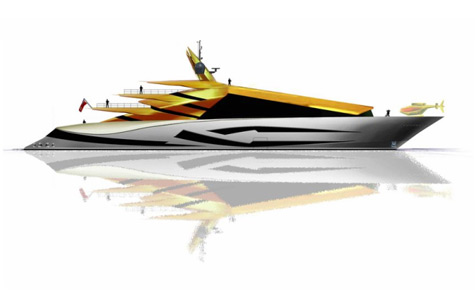 Similar to panoramic roof windows on modern cars, the super structure integrates a full length panoramic roof window running over the yacht. The main superstructure takes its form from the head of an iguana while the decks and communication tower are inspired by the dorsal crests of these beautiful lizards.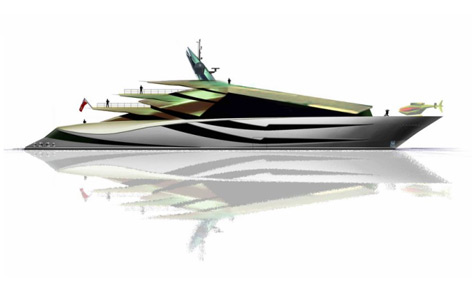 Something new, exciting and 'moving the game on'.
In order to maximise deck space aft, the bulwarks open into two fold-out platforms. Not just two small balconies, but two large bathing platforms.
A helicopter, custom tenders and toys are under development matching the exterior styling of the yacht.
Water toys include waverunners, sea scooters, windsurfers, kayaks, waterskis, wakeboards and a whole range of scuba and fishing gear.
Specification of the Iwana 85m Superyacht:
Length overall: 85m/280ft
Beam: 14.2m/47ft
Hull: steel
Superstructure: aluminium
Power and type of engines in hp and manufacturer: 2 x 4,830hp / 3,600kW, MTU 20V 4000 M73L
Maximum Speed: Approximately 18 Knots
Range: 6,900 nautical miles at 14 knots
Fuel Capacity: Approximately 280,000 liters/73,968 US gallons
Berth capacity for guests 16
Berth capacity for crew 20
Master suite, with owner's salon, exterior balcony and private exterior deck area, 2 VIP cabins with private exterior balcony and folding bulwark platforms, 3 double guest cabins, 1 twin guest cabin
* * *
Related links:
McDiarmid Design