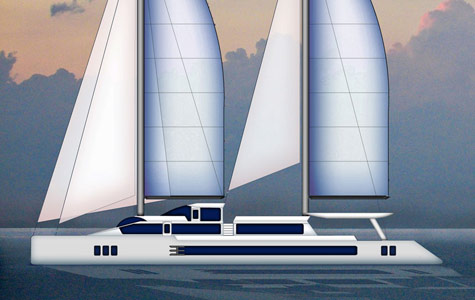 With the Paracas 120 catamaran, you can journey to destinations with fewer stops to refuel. The Paracas 120 has everything, and it eclipses all other vessels in her class.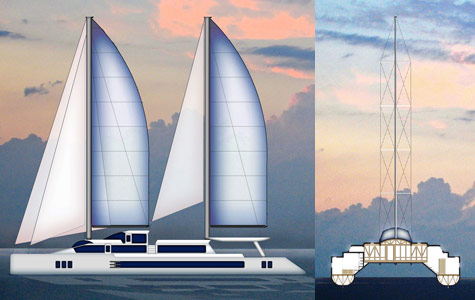 This luxury catamaran is all about spacious with 10 double cabins, outside dining and seating for 16, plus a conference room that doubles as a theater located both inside and outside the ship.
On the aft deck, there's a lot of space for all the amenities: jet skis, tenders, watercraft and the like. It has superb styling with unparalleled and exception space and speed.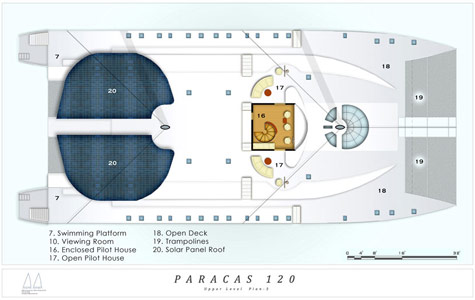 This cost-efficient yacht is run fully by electric that regenerates lithium-ion batteries when under sail, and uses proprietary, unique hydro-electric turbines. The Paracas 120 can generate and store power in one day of sailing for up to 10 continuous days of running. It isn't an idle comment when the manufacturers say you can journey to your next destination while your competitors stop to refuel again and again.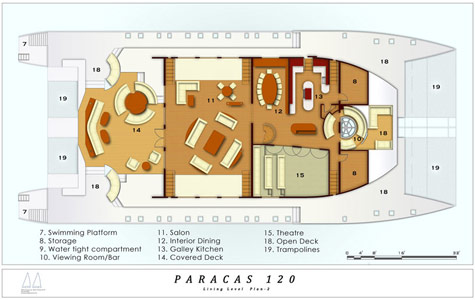 There is both an attractive terms and financing package as well as introductory pricing available. You can also customize your yacht any way you like, and select from a wide variety of features:
Elegant styling with stunning designs that will take your breath away
Maintenance and operation is low-cost
Spacious accommodations for crew and guests, much more than traditional large yachts
500 mile range to explore. Plan exciting getaways daily
Fun, fast, responsive maneuvering with light displacement
Easy access to reefs, banks and islands because of its shallow draft
Hydro-electric regeneration patented technology which insures sustainability with zero-fuel consumption. Eco friendly with all the amenities and luxuries
It has an expansive design that allows for all types of recreational amenities including an exercise room, home theater, multiple tenders, home theater, sailing dories and jet skis. You can pilot multiple self-tacking sales, complete with twin rudders, water jet drives and indoor/outdoor helms. If you're looking for elegance and comfort you need look no further.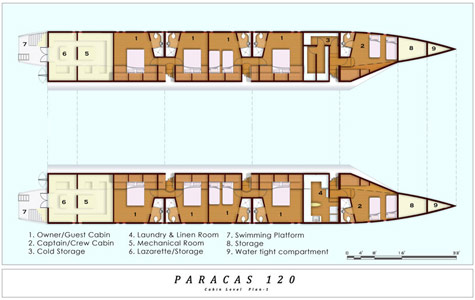 Operation of the Paracas 120 is price conscious with lower cost operating expenses, but it doesn't sacrifice elegance and quality. It has light displacement which makes it a fun ship and with it's spacious cabins, lots of amenities and outdoor and indoor seating, it truly delivers on its promise of being the fastest, least costly ship out there today.
The Paracas 120 has everything you would expect in a luxury mega yacht, and with its self-sustaining power generator, it is not only fast but can travel at greater range with fewer stops.
Specification of the Paracas 120 catamaran:
Length: 36 m/120 ft
Beam: 16 m/52 ft
Mast Height: 2×32 m/104 ft
Draft: 1.2 m/4 ft
w/ boards down: 4 m/13 ft
Sail area (total): 6290 sf
Main: 2×1320 sf
Genoa: 1930 sf
Jib: 2×860 sf
Displacement: 125 t
Motors: 2×200 kw (272 hp) Siemens
Aux. Generators: 2×180 kw diesel
Solar Power: 850 sf/13 kw array
Hydro-Electric: 2×180 kw turbines
Guests: 12 in 6 double cabins
Crew: 8 in 4 double cabins
Cruising speed (Power): 13 kts
Cruising speed (Sail): 17 kts (hull speed)
Top Speed: Over 22 kts
Dual Helms: Inside/outside
Observation Dome: above/below
Airconditioned areas: 4600 sf
Cockpit areas: 1350 sf
* * *
Related links:
Paracas Yachts
Photo: paracasyachts.com