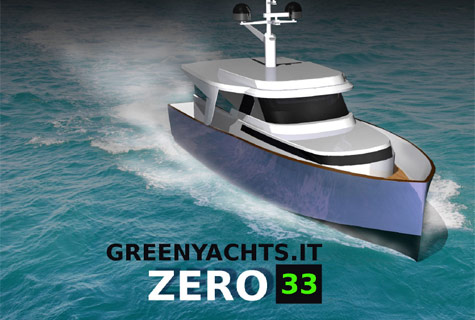 Green Yachts has designed their newest 33ft addition to their collection of yachts, titled the Zero 33. This pleasure yacht was built, as well as designed in Italy, and was intended to be as environmentally friendly as possible.
It achieves this goal by using a hybrid propulsion system, and being made entirely of eco-friendly materials.
The boat has a classic style but the surfaces are similar to a molded body of a modern car. Streamlined and defined.
All interiors are made of selected eco-friendly, natural fabrics, paints without solvents, wood from selected and authorized plantations. A large living room greets visitors on board, an area well lit by large windows that allow a full panoramic visibility.
Wheel house and kitchen are willing to bow, where you enter the lower area. Here are two cabins, one forward with two beds and a convertible double cabin aft, between the two cabins a practical bathroom with shower.
All electrical systems are designed to minimize power consumption.
The main elements that characterize this boat dale dimensini reduced are:
Low purchase cost
Low power consumption
Internal sustainable material
6 beds
The top speed with combustion engine is 18 kn, while with zero-emission mode can surf to 8 kn for more than 2 hours.
Green Yachts Zero 33 is the boat for those who like to yachting for the first time.
The first boat of 33 ft has a very competitive price (less than one apartment for 4 people in the Italian Riviera).
Specification of the Green Yachts Zero 33:
Length: 9.99 m
Beam: 3.60 m
Draft: 0.85 m
Displacement: 4700 kg
Endurance in electrical mode: 3 hours
Endurance with Combustion low emission engine: 40 hours at 11 kn
Max Speed: 18 kn
Max Speed with combustion engine: 8 kn
Fuel: 600 lt
Water : 150 lt
Persons onboard: 8
Beds: 6
* * *
Related links:
Green Yachts
Photo: greenyachts.it