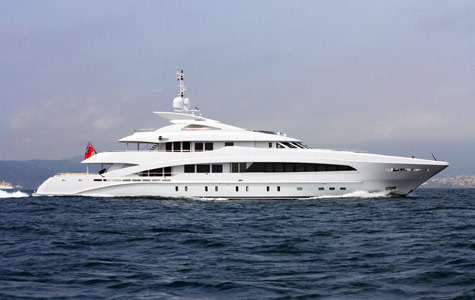 Heesen Yachts has announced their very first entry to the 50 metre semi-displacement class, named MY Satori, after extensively testing it in the North Sea.
The yacht is one of the best of its kind, with the ability to reach 24 knots, using its powerful, yet relatively light MTU 2.720 kW engines. The yachts is extremely efficient using hard chine to create a hull that would not impact the performance in a negative way, making it not only fast, but fuel efficient, with a range of 3.200 nm at 12 knots. This performance is complemented by its beauty, having Remi Tessier, a recognized French designer, create the elegant interior design.
The yacht will rendezvous with her owner in Monaco for the official christening, which will take place during the Monaco Grand Prix and for applying to be part of "La Belle Classe Superyacht", a certification created by the Yacht Club de Monaco to unite owners who share similar yachting values. Being a member of "La Belle Classe" is a real commitment to an attitude where courtesy and respect reign, where regatta rhymes with fair-play, naval etiquette with "savoir-vivre" and elegance with spectacle. All members of "La Belle Classe" have shown their desire to be part of this very select Club by signing a charter which represents a genuine commitment and desire to build towards the future. "La Belle Classe Superyachts" objectives are as follows:
Respect for Etiquette: by complying with codes and customs which are the true heritage of the Yachting fraternity, taking account of the way a yacht's owner and crew behave and dress, come to the aid of others, and respect all other yachts whatever the circumstances: these are the rules of courtesy and solidarity between members of "La Belle Classe".
Respect for the Environment and the Sea: by adopting an environmentally responsible attitude at all times, to include maintenance (with eco-friendly products) and employing new or existing technologies, such as ecologically sound fuels, hybrid engines, reducing CO2 emissions, the use of Pods to preserve the seabed, and other actions.
An ability to innovate and embrace new technologies: by producing, adapting, employing and promoting new technologies, elegance and harmony of design, in order to develop Yachting while preserving the environment. Research is vital to the future evolution of this industry.
Megayacht Satori and her owner will be fine additions to this exclusive Club, and exemplify all that is fine and good about yachting.
Specifications of the Megayacht Satori:
LOA: 49,80 m
Beam (maximum): 9,00 m
Draught (loaded): 2,65 m
Naval Architecture: Heesen Yachts / VOA
Exterior Styling: Omega Architects
Displacement (half load): 300 tons
Fuel capacity: 68.800 litres
Fresh Water capacity: 16.200 litres
Gross Tonnage: less than 500 GT
Speed (maximum/cruise): 24 knots
Range: 3.200 nm at 12 knots
Classifications: ABS XA1 Commercial Yachting Service, XAMS MCA / LY2
Main engines: 2 x MTU 16V4000M90, diesel driving
Propulsion: 2 x Schaffran five-blade fixed pitch, propellers Ø 1.450 mm
Guests: 10
Crew: 10 (including captain)
* * *
Related links:
Heesen Yachts
Omega Architects
Photo: heesenyachts.nl