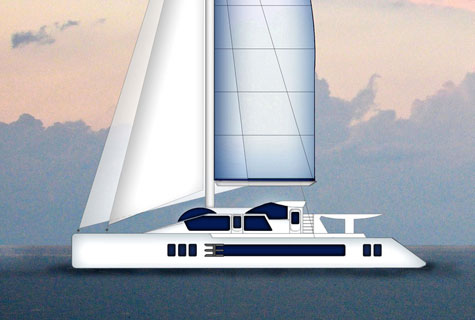 Paracas 82 is the first vessel in the new eco-friendly and luxury catamaran line from Paracas Yachts. With a unique and awe inspiring 40 foot beam, the Paracas 82 sailing catamaran boasts almost as much as twice the amount of space that vessels of similar length provide. One of the most notable features of the Paracas 82 is the savvy catamaran design that is encompasses.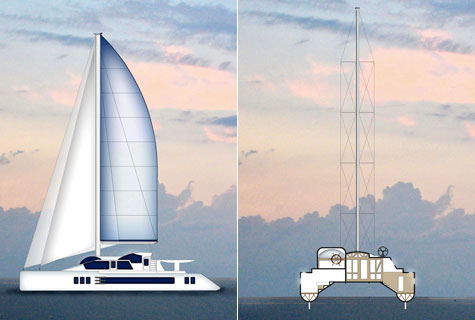 You and your guests can take full advantage of the large salon featured in this beautiful creature of the sea. The salon affords gracious views of the sea and the sail, which gives you an opportunity to watch it dance in the wind while the sun goes down.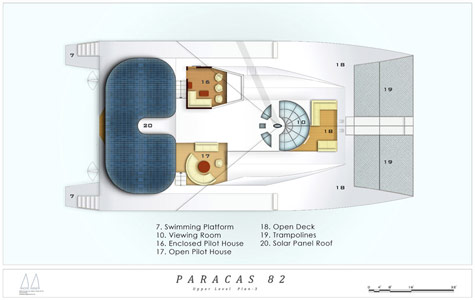 The Paracas 82 is also one of the most cost efficient yachts on today's market. The electric system was designed to use hydro-electric turbines in order to recharge the abundant bank of lithium-ion batteries. In fact the Paracas 82 is efficient enough to power up the batteries enough in one day to run all the function of the yacht for 10 days continuously. This allows you to easily travel to your next destination without having to stop at a port to refuel like many others out on the open water.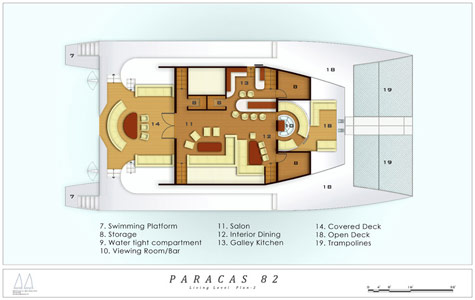 Attractive financing options and even introductory pricing offers are available for the Paracas 82 catamaran. You can live your dream without breaking the bank and enjoy all of the following features of your new yacht:
Elegant Style and Beautiful Designs
A Lowe than Average Cost to Operate the Yacht
Generous Accommodations for Both the Crew and the Passengers
Explore Up to 500 Miles Every Day You are On Board
Designed for Fun, Fast and Easy Maneuvering
Easily Access Islands With a Shallow Draft
Hydro Electric Technologies that are Patented to Ensure Fuel Sustainability
The Expansive Design Allows for Amenities Like a home Theater and Workout Room
Multiple Self Tacking Sails and Twin Rudders for Effortless Piloting
Luxury Décor and Interior providing Comfort and Elegance
As you can see, there are many things to look forward to in your new Paracas 82. Being one of the most cost efficient mega yachts on the market, it makes the most economical sense to invest your money in the Paracas 82 instead of another vessel of similar worth. In fact the money saved on fuel and power can really provide you with a year end savings of literally thousands of dollars. You owe it to yourself to find out how you be sailing in your very own Paracas 82 this summer.
Specification of the Paracas 82 catamaran:
Length: 25 m/82 ft
Beam: 12 m/40 ft
Mast Height: 37 m/120 ft
Draft: 1.5 m/ 5 ft
w/ boards down: 4 m/13 ft
Sail area (total): 5470 sf
Main: 2240 sf
Genoa: 2350 sf
Jib: 880 sf
Displacement: 45 t
Motors: 2×100 kw (117 hp) Siemens
Aux. Generators: 2×80 kw diesel
Solar Power: 500 sf/18 kw array
Hydro-Electric: 2×80 kw turbines
Guests: 10 in 5 double cabins
Crew: 2 in 1 double cabins
Cruising speed (Power): 10 kts
Cruising speed (Sail): 13 kts (hull speed)
Top Speed: Over 16 kts
Dual Helms: Inside/outside
Observation Dome: above/below
Airconditioned areas: 1580 sf
Cockpit areas: 720 sf
* * *
Related links:
Paracas Yachts
Photo: paracasyachts.com