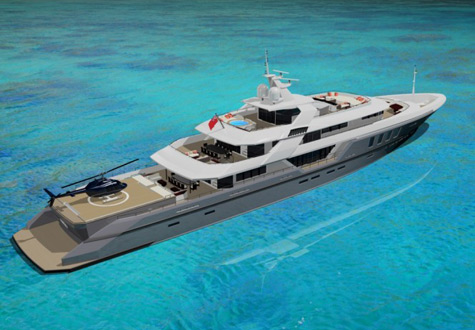 After the success in 2010 partnering up for a 60 meter motoryacht, Asia's largest builder, Ruea Yachts has teamed up again with Design Unlimited and BMT Nigel Gee, naval architects to come up with a new design, a 75 meter superyacht. All three companies are world renown for their design concepts, both inside and out, their combination of luxury as well as functionality, and superior customer satisfaction.
This new design is optimized for deep-water excursions, and has large covered areas outside that flow naturally and easily into spacious interiors. With the idea that these yachts will be traveling to areas where the climate is hot and tropical, it is important that the outside spaces are an integral part of the living space, as well as to provide all the amenities and comforts while protecting guests from the hot sun.


One of the luxuries that are included with this 75-meter design concept is the retractable heli-pad, which can retract to the dedicated hanger bay. There are many owners who frequently take shore leave, and having a way to go from their yacht to the mainland and back quickly and easily makes this travel even easier.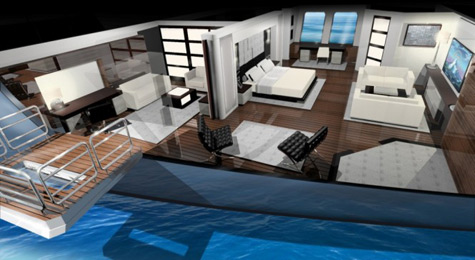 Accommodations are set over three different decks, with the owners quarters, and it's private balcony and studio, the main saloon, cinema, and the first of two double guest rooms with private bath on the main deck. Below this is where there are four more double guest rooms, along with the galley and crew quarters. There will be accommodations for up to eight crewmen, as well as a private double suite, dedicated to the chief engineer's quarters.



On the top deck is where the captain's cabin, office, and wheelhouse is located. There is going to be a grand sun deck, with a jacuzzi, gym, sauna, and plunge pool. There is also many different lounge and seating areas, plenty of space for the owner and their guests to have some outdoor enjoyment, while experiencing these tropical climates.



With these three heavy hitters in the yachting world joining up for a second time around, these new 75 meter super motor yacht design is sure to hit the yachting world like a storm. The actual construction of this yacht is going to take place at the Ruea facilities in Thailand.



With the release of their 2010 60-meter yacht, as well as this new design, be prepared to see more collaborations between these three.
Specification of the 75m superyacht by Ruea Yachts, Design Unlimited And BMT Nigel Gee:
Length O.A.: 75.0 m/246.1 ft
Length W.L.: 66.3 m/217.5 ft
Beam: 12.6 m/41.3 ft
Draught: 3.6m/11.8 ft
Tonnage: 1,830 GRT
Main engines (option):
2 x MTU 16V4000 M60 @ 1760KW
2 x Caterpillar 3,516B @ 1566KW
Cruising speeds:
MTU – 85% 17.1 knots
MTU – 100% 17.7 knots
CAT – 85% 16.6 knots
CAT – 100% 17.4knots
Range:
6,165 nm @ 12.0 knots
3,584 nm @ 16.0 knots
3,082 nm @ 17.0 knots
Fuel: 202,400 litres
Water: 75,000 litres
* * *
Related links:
Ruea Yachts
BMT Nigel Gee
Design Unlimited
Photo: rueayachts.com