For our special reader Dan whose support was very important to us and who would love to see some catamarans on our site, we found this amazing Sailing Catamaran.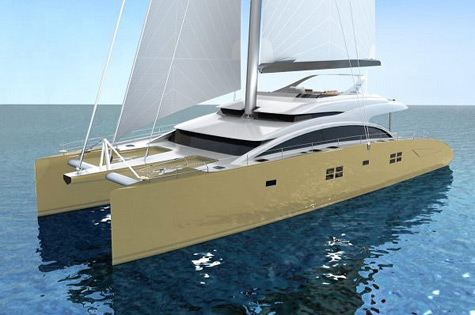 Sunreef Yachts has been synonymous with super yacht catamarans, and after the release of two 100′ mega yachts, they have been designated to build another, 82′ Double Deck sailing catamaran for a European client.
These client was extremely impressed with the 102′ Double Deck sloop catamaran Ipharra, its elegance, spacious design, and wanted Sunreef to build one for them, just not as large, and in the original dual deck design.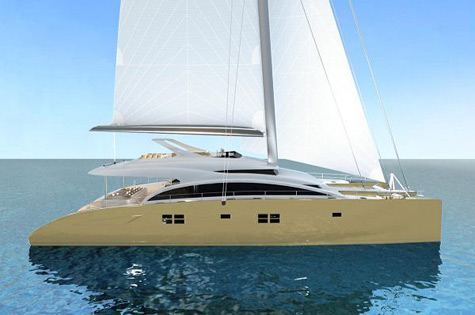 The latest Sunreef design, the 82 DD, is going to be designed with open floor plans, as well as a stepped hull. This will greatly increase the amount of interior space, without lowering performance. The double decked design will allow a large, spacious front cabin for the owner, a main salon that is bright and sunny, and includes an integrated helm station. This main station will have wide sweeping views of the ocean, allowing for easy manuevering even in small ports and marinas.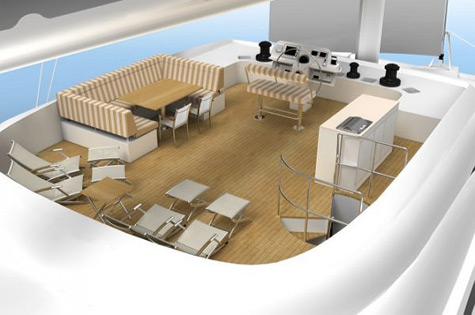 The Sunreef 82 Double Deck catamaran is designed with the owner's needs and wishes in mind. The yacht will be able to accommodate up to seven of their guests, as well as a crew of two, who will be assisting the owner. Since the owner is an avid sailer, there will be no need for an extra captain. There will be a beam wide suite for the owner, a VIP suite with a queen sized bed, and a twin cabin tha can be converted into a larger double cabin. There will be also a Pullman bed for extra accommodations.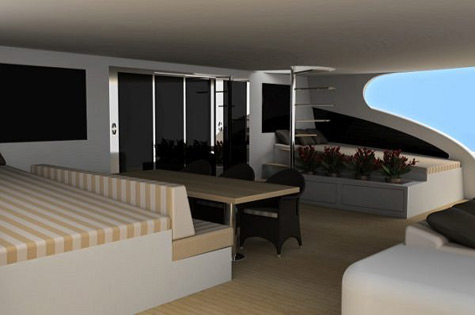 One of the most innovative designs in the 82 DD is the Messanine floor. This will have a large lounge area, with coffee table on the starboard side, with a large multipurpose storage space for the owner's painting equipment.
The owner's cabin is arranged over two floors, occupying the full forward area of the yacht. This will have the master cabin, Jacuzzi, and even a gym on the main deck, with the wardrobe, bathrooms and storage area on the lower deck, comprising both starboard and port hulls. Guests will halso have generously sized cabins, with wide access to the beds, spectacular views, and have their own shower and bathroom. There are large six part windows, allowing the guests to have amazing access.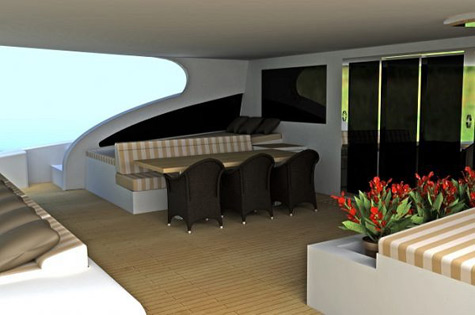 The 64 m2 control area will have a number of amenities. There will be a large dining area for up to eight guests. There will be ample sunbathing areas, with mates, an area of growing flowers, and even wicker chairs. There is ample diving storage compartments, as well as a tender and jet ski garage under the sun pad and cockpit. The flybridge will have the helm station, bar, ice machine, and even a barbeque. This is going to be one spectacular superyacht for the owner and his wife, with many of the amenities designed around their painting and sailing enjoyment.
* * *
Related links:
Sunreef Yachts
Photo: sunreef-yachts.com