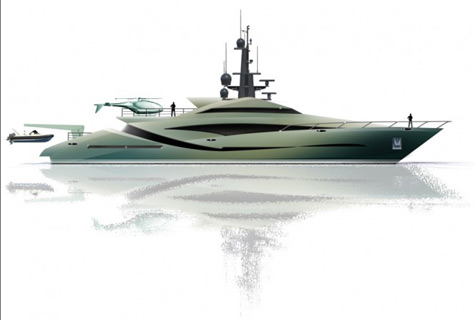 Based out of Southern France, British yacht designer Alex McDiamid has really out done himself with his new 46-meter motoryacht. It's sporty lines, sleek profile, and a main window that runs from the aft and wraps around the yacht to the hull, this vessel is going to stand out in a crowd. Taking inspirations from car designs, urban architecture, and even from origami, this concept is one that looks away from the mainstream yachting industry.
For McDiarmid, this luxury yacht is going to have a mix of many elements, from timeless beauty, to the desirability of its high quality. While keeping with the classic bow design, the rest pushes the styling boundaries. It is also the first time that he will be going solo. Dabbling in many realms of the design industry, and graduating from the Coventry University with an automotive design degree, Alex has worked with such famous names as Philippe Briand, Tony Castro, and the Gills Vaton Architecture Group. Learning from the best mentors in the yachting industry has given him the drive, the passion, and the creativity to continue to be involved with the transport and industrial projects, but his passion will always be to design spectacular yachts. With his vast experience with motor yachts, catamarans, tenders, and RIBS, Alex is sure to give those in the yachting world a run for their money.
This first concept on his own was first created near the end of last year, and has a fresh approach to yacht design. It has the sleek curving appearance not unlike the Sidney Opera House, and has many arches and curves in its windows. The superstructure and hull of this 150′ yacht will be made from aluminum, giving it agility and speed.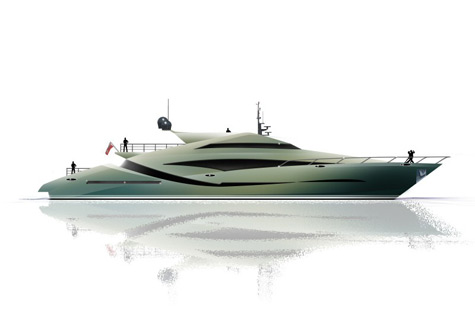 There are going to be many different features on this concept yacht. Some of them include a centralized entertainment system, that is fully integrated into the cabins, walls and common areas. The master suite will have a walk in closet, hers and his bathrooms and even a private study, for times when business needs to be taken care of. The main salon, dining area and bar have open concept plans, and can seat up to ten guests. There is room for the owners, 12 guests, as well as eight crew. This will be split up over two double cabins with private baths, as well as a number of other cabins with two single and a Pullman bed. With a length of 46 meters and a beam of more than eight, there is plenty of room to move around, even when fully loaded. In addition, it will have a large helipad on the upper deck, as well as a spacious tender garage, complete with a launch crane.
* * *
Specification of the 46m Superyacht Concept By Alex McDiarmid:
LOA: 46 m/150′
Beam: 8.4 m/27'6″