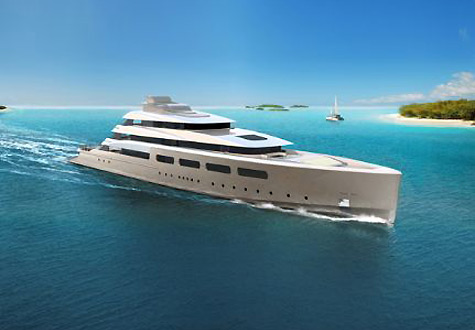 The PA076 is the latest concept by Oceanco, and was first presented by the inhouse design team in 2010 at the Monaco Yacht Show. Now the ship has been developed from a concept to a real vessel, and will be presented at both the Abu Dhabi and Dubai Yacht shows this year, along with a new 119 meter concept from Sam Sorgiovanni.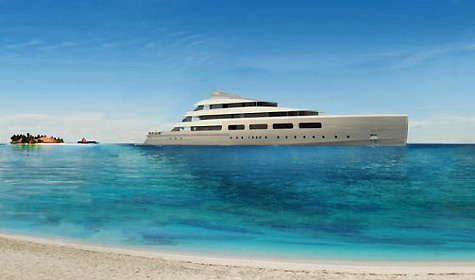 This super yacht is 90 meters long, with a beam of 15 meters. It has an almost vertical bow line, making it able to take on even the roughest of seas. This motor yacht is able to achieve speeds of 20 knots, making it extremely fast for its enormous size.
The interior designs have yet to be revealed, but the company has confirmed some of the layout of the yacht. It will be able to accommodate up to twelve guests, including the owner. There will be two each of VIP cabins, double as well as twin suites. The upper deck is dedicated to the owner's accommodations, with his and hers bathrooms, a private library, office, and gym. There will be a large walk in closet as well. In addition, forward of the owner's suite will be a private deck area, with salon, sunbathing platform, as well as their own jacuzzi. Aft of this is the regular salon area, as well as an alfresco dining place with seating for 14. One the main deck there will be a larger swimming pool, entertainment areas, as well as the main lounge. Lower decks will have a massage room, steam room, as well as a beauty parlor and a fully stocked spa, with even another whirlpool bath.
The exterior designs incorporate an advanced and hidden mast, which keeps the communication and navigational areas out of sight. Even so, Oceanco boasts that there is no compromise when it comes to functionality. In addition, one of the most impressive aspects of the PA076 super yacht is that the main swimming pool can be converted into a helipad, or even a dancing area. This is accomplished with the use of the swimming pool floor. It can be raised to the same level as the teak deck smoothly and easily, becoming flush with the deck. Another design feature is the lower deck tender garage, which can easily accommodate tenders even 12 meters long.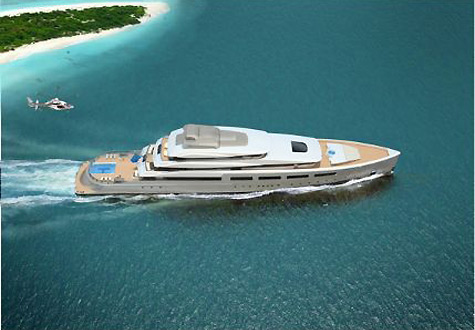 Oceanco is working closely with Azure Designs on the naval superstructure, being mostly comprised of steel and aluminum. The maximum speeds of 20 knots will be achieved from the twin MTU 16 valve 595 TE diesel engines, producing a whopping 7200kW of power.
There isn't many conceptual images of this impressive yacht, but a few of them can be found at some online locations. Most of these plans and images are being saved for the reveal at this year's yachting shows. If you are able to attend, it would be well worth the effort.
Specification of the Oceanco PA076:
Length Overall: 90 m/295.28 ft
Beam: 15 m/49.21 ft
Superstructure: Aluminium
Hull Material: Steel
Engines: 4 x MTU 16V 595 TE 70, 4,380 HP
Speed (Max): 20 knots
Fuel Capacity: 320,000 l
Guests Sleeping: 18Cabins
Double: 2
Cabins Total: 9
Cabins Twin: 2
Yacht Builder: Oceanco
Naval Architect: Oceanco
Exterior Designer: Oceanco
* * *
Related links:
Oceanco
Azure Naval Architects
Photo: oceancoyacht.com