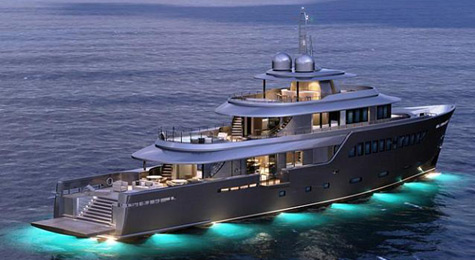 A new build is being created, and it is known as Project 500 by Mondo Marine. This is an explorer styled yacht and it measures 45.05 meters in length, and also comes standard with an ice-classed hull. The aluminum superstructure will serve to hold it together in even the worst of conditions, and there are plenty of optional features that can be incorporated later on if you so desire.
One of the optional features we speak of is naturally the helipad. The present design of Project 500 does not allow for it, but if the owner wishes, one can be incorporated. It should be understood however that this is not an aircraft carrier and even if the helicopter pad is incorporated, the landings should be touch and go at best. The craft will not support a helicopter for more than a few minutes at a time, and this should most definitely be kept in mind.
Another important upgrade would be to the engines, and they can be upgraded to electrical for the option of switching propulsion methods when needed. The standard engine package however will contain twin CAT C32 634 KW engines, and this will allow for a 14 knot cruising speed. This is of course much slower than boats of similar types, but this particular yacht is intended more for cruising than anything else. That being the case, 14 knots should be more than enough.
As far as housing goes, the Project 500 will likely host up to twelve guests, and they will be able to sleep in five guest staterooms. In addition to that there will be a master stateroom for the owner, and the interior of the boat will feature modern designs in the form of naval architecture.
Once the contracts are signed, Project 500 will require an estimated 24 months building time for the entire structure, and once completed it will be determined whether or not any more are to be produced. There is a chance of course that it will be more of a charter vessel than anything else, and it is expected to have all of the modern amenities such as a television internet, and a number of others that will come in handy.
Though it hasn't hit the market just yet, people are certainly talking about it, and everyone wants to know what it will feel like to ride on Project 500 when it is fully constructed and ready to leave dry dock. There's only one way to tell, and it is watch, wait, and hope that it sees the light of day unlike many other projects that are announced. That being, watch and wait for this new installment to the yacht community.
* * *
Related links:
Mondo Marine
Photo: mondomarine.it