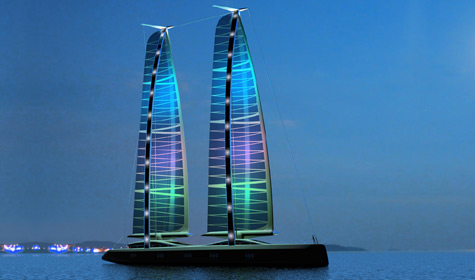 Here we go again! Erik Sirfer has created his latest Green Jet Project, and it is an incredible sailing yacht combining green energy with modern technology. Unlike many boats being released as of late, we actually have the specifications and we are able to share them with you. We will start out by discussion the propulsion system as well as what effect it has on the environment.
First of all the main propulsion system of the Green Jet consists of two automated Aero sails that are controlled through hydraulic motors, and the rigging is governed by two forward facing sliding edge high masts. This is an excellent fusion of technology and nature, and if you're looking to help preserve the environment, you certainly could not make a better choice.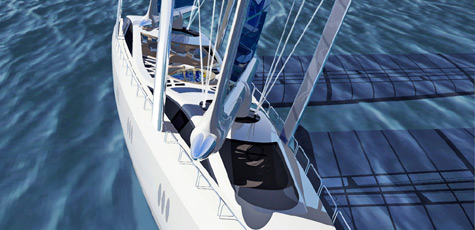 The boat is composed of two different areas, and each of these are protected by a wave shaped roof. This roof freatures circular sky windows, and the center of the deck features a jaccuzi. It should also be noted that while this jaccuzi does serve as a recreational device, it can also be viewed as the separation of the passengers and crew.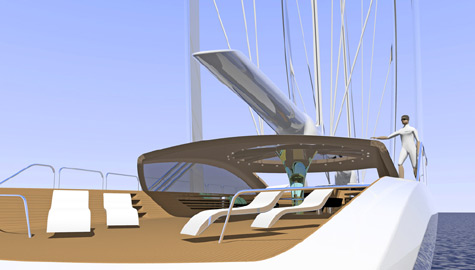 The boat was designed with similarities to a motor yacht, and as such it can easily be controlled by a computerized jet sail system. That being the case you can use this boat for charter or simply as a private transport across the high seas. As you can see, there are a number of different features that you will want to consider when you are looking for a new boat, and if you are one who wishes to help the environment, you certainly could not do much better than a boat like this.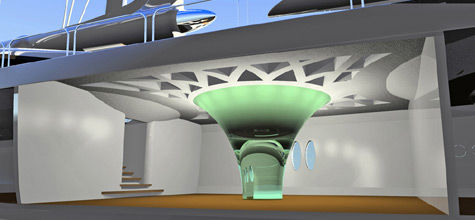 As a mixture of technology, and nature as some would say, this boat may serve to usher in a new era of sailing, and at some point we may even see more 'green' racing yachts. That is the future however, and it is nearly impossible to determine just what the future might bring. That being said, it would serve you well to keep an eye on this boat and see if any new evolutions of the green design concept come to light. In addition to that you may wish to determine whether or not this boat can be bought, and if it cannot, then it can certainly be chartered at one time or another by those who happen to have enough money.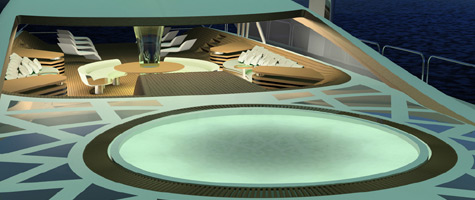 Specification of the Green Jet Project:
LOA: 57 m
Beam max: 11.7 m
Draft: 6 m
Displacement: 330 t
Sail area: 1900 m2
2 x Engines on hydrogen propulsion: 2 x 950 kW
* * *
Related links:
Erik Sifrer / Mides Design
Photo: mides-design.si