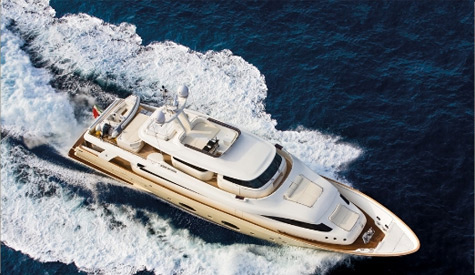 In late spring 2011, there is a strong chance that we will be seeing the Navetta 33 Crescendo, and these yachts are said to be designed as 'villas on the sea', and this will at some point redefine life on the water once and for all. That beign the case, it is important for us to look at the different aspects of the Navetta 33 Crescendo and see how they will improve nautical life.
First of all the Navetta 33 Crescendo features the ability to install virtually any type of furniture even if you appreciate contemporary designs rather than the modern look. The interior of the boat can be designed in any way that the customer seems fit, and the established interior will flow seamlessly with it.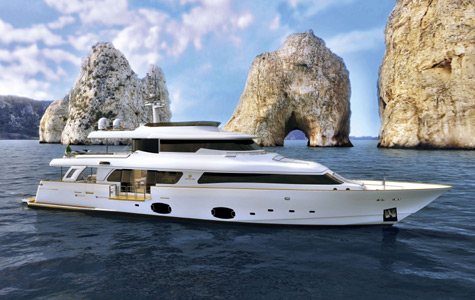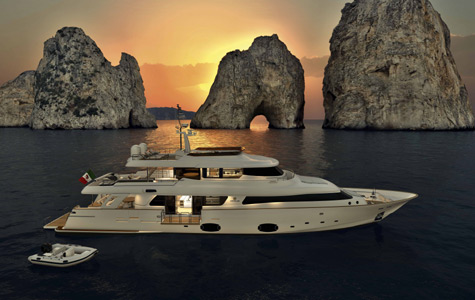 Natural lighting is a big deal onboard the Navetta 33 Crescendo, and there are several large windows across all three decks that illuminate the beautiful, spacious interior. The idea behind this project is to create a boat that can be appreciated by people across the world including Europe, Russia, Italy, and even America. This is a universal design, and it is a result of a working relationship between Studio Zuccon International Project and the Ferretti Group's Centro Stile.
There are three full decks on the Navetta 33 Crescendo, and they are nicely integrated with the yacht line. On the main deck you will find a salon that encompasses a large dining area and utilizes a sliding glazed door that reduces the number of physical barriers between you and the sea. It should also be noted that there are separate rooms for the owner and for the guests, the owner suite being in position on the main deck.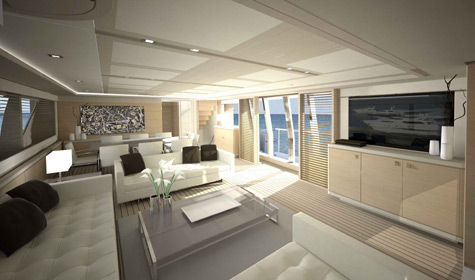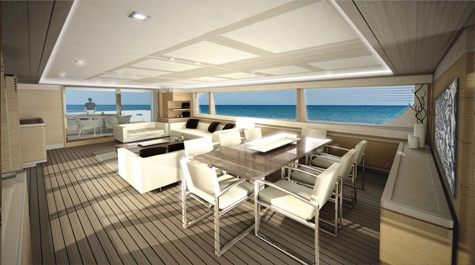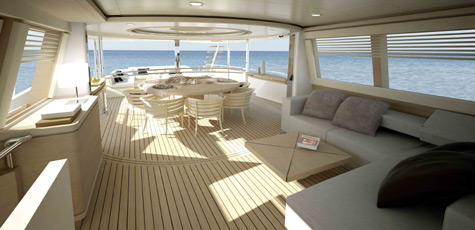 There are a total of four guest rooms on the yacht and all of them feature large open windows looking onto the sea. Circular sliding doors on the upper deck allow for an even more unobstructed view, and you will undoubtedly be glad to know that the beds in the rooms can be separated to form a twin. Every part of this boat is versatile, as you will discover, and it can all be tweaked for your convenience.
The boat is powered by twin MAN V12 engines that produce 1,400 HP, though you can choose to upgrade to 1,550 horsepower if you wish. The top speed will be approximate 20 knots, though the cruising speed is 16 knots. This is already considerably faster than many other yachts on the market, and it will get you where you need to go in a decent amount of time. That being said, this will be the boat to look for in 2011, and it might have a few more surprises for you yet.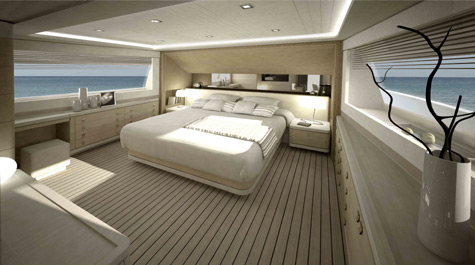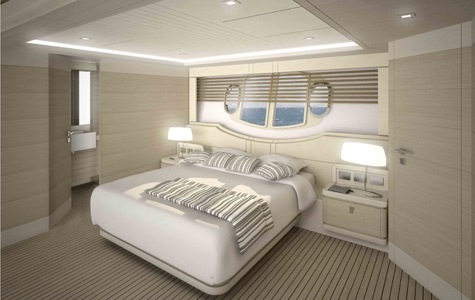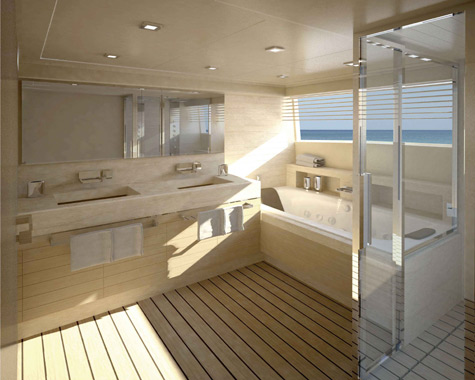 Specification of the Navetta 33 Crescendo:
Length Overall: 32.62 m/107.02 ft
Length Waterline: 28.35 m/93.01 ft
Beam: 7.00 m/22.97 ft
Draught Max: 2.52 m/8.27 ft
Hull Material: GRP
Superstructure: GRP
Displacement: 140
Engines: 2 x MAN D2862 LE 423, 2,800  HP, 2,088 KW total
Max Speed: 17 knots
Cruise Speed: 15 knots
Fuel Capacity: 16,300 l/4,306 gal
Water Capacity: 3,250 l/859 gal
Guests: 10
Naval Architect: CRN Spa
Exterior Designer: Zuccon International Project
* * *
Related links:
Custom Line Yacht
Photo: customline-yacht.com