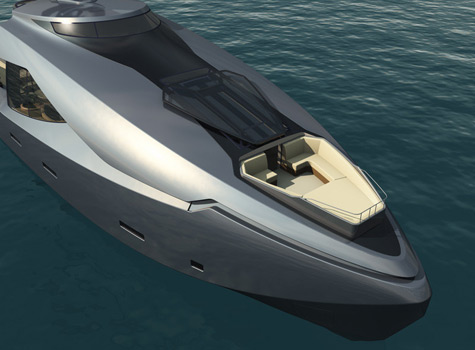 The Blue Whale is a new release by Canaria Ocean, the yacht design firm from South Korea. This is a sleek, aerodynamic boat that features both guest quarters and crew quarters. As you can imagine, separating the guests from the crew in any boating environment is very important, and with that being the case, the wheelhouse sits between them.
The sliding cabin is located at the rear of the boat and it is able to slide out of the stern in order to create a multi-purpose room. Extra deck space can also be created in this cabin in an effort to create more room and even create a swim platform. Because the platform will ultimately be so close to the water, it will be incredibly easy for swimmers to enter and exit the platform without needing to pull themselves up.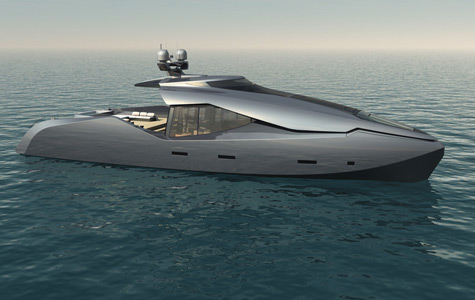 At the bow of the yacht one will find a glass roof that opens and allows access to a seating area that provides an excellent view of the ocean. This is an indoor/outdoor area that can provide a high level of entertainment value even on the rainy days. During those rainy days you simply close the glass enclosure and watch the show.
As you can see, this is one of the more amazing boats on the market, and once you lay eyes on this model for the first time, you will undoubtedly take note that it is unlike any other type of watercraft out there. The name 'Blue Whale' was appropriately given considering he form factor. The majority of the boat is enclosed, giving the illusion of a living creature in some cases, but in other cases it will appear to be more ultra-modern than anything else. That being the case, many will want to own the boat simply for its high level of uniqueness.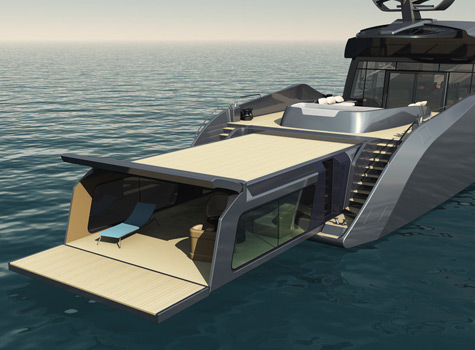 The Blue Whale is a bit faster than other boats in its class, clocking a speed of 30 knots. Other similar models will only travel at about 25 to 28 knots depending on the weather, and it could be thought that the speed of the blue whale can be attributed to its aerodynamic hull and not much else. That being said, this yacht will get you where you need to go, and it will do so in record time. You would certainly do well to take a look at this new release, and in time it may even be released for public purchase. If you can't wait, there will undoubtedly be someone offering a charter for you and your friends to take advantage of. It's time to sail.
Specification of the Blue Whale:
L.O.A : 37 m
Draft : 2.2 m
DWT : 80 Ton
Power : 2 X 2500 hp MTU
Max Speed: 30 knots
Guest : 3 double
Crew : 8 single
IT Facility : LCD TV, Video, sauna, internet, Audio system, Zero speed stabilizer, lift terrace, sliding cabin
* * *
Related links:
Canaria Ocean
Photo: canariaocean.com