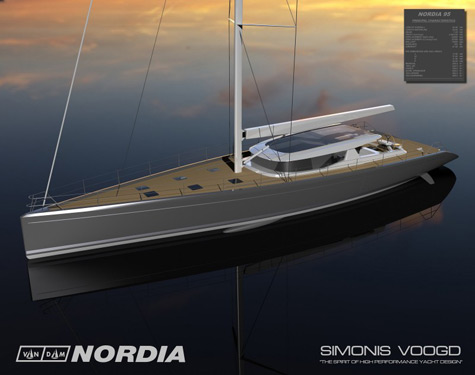 Simonis Voogd Design Studios and the Van Dam Nordia Shipyard have come together to collaborate and on series of demand performance cruising and sailing yachts. The first model in this line made from aluminum and carbon fiber, is 95′ long, and will be the perfect combination of cruiser as well as providing five star hotel comfort.
One of the first things that set this 95′ foot sailing yacht apart is the raised saloon with a full glass roof that offers panoramic views, as well as a cockpit with its own sliding roof. The flush deck has plenty of space of sunbathing as well as two different steering positions for maximum visibility. It also has a 3.85 Williams Turbojet in the equipped Lazarette, and the hydraulic transom door gives complete access to not only the garage, but also acts as a permanent teak wood swimming area.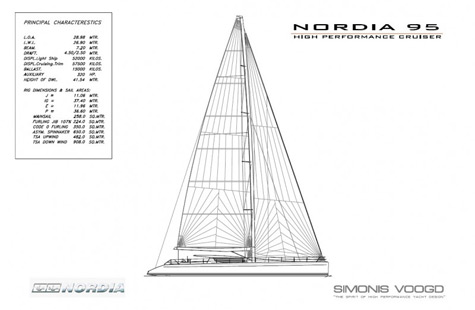 Inside, the saloon as well as the cockpit are on the same level, a large and impressive master suite with a his and hers bathroom, which has direct and private access. There are also two more guest rooms, each with its own bathroom and lounge. In addition, there is ample space for three crew, with separate galley bathrooms and mess area. You can also expect a large engine room that can be accessed even from the deck, and is has a 320 HP motor.
One of the most unique features of this luxury sailing vessel is the lifting keel. It has a range of 2.5M-4.5M, giving it more access to a variety of marinas and other mooring options. The adjustable keel also allows it to compete in even the prestigious regattas. It also has a 482 square meter sail, making it extremely fast.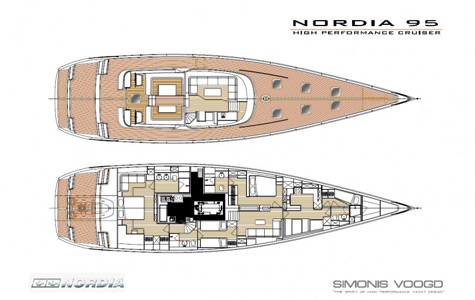 Established in 1881, the Van Dam Nordia shipyard is the oldest in the Netherlands. It has a number of different motor and sailing yachts under its belt, many of which range from 50′ to up to 120′, and have won many prestigious awards in the yachting community. Simonis Voogd Studio has more that 26 years in yacht design, and with such extravagant racing yachts such as the Nicorette I and II, it is no surprise these two powerful forces have come together.
It is expected that this collaboration is going to produce many more luxury sailing yachts, not only in this series, but possibly many others.
* * *
Related links:
Van Dam Nordia
Simonis Voogd Design
Photo: simonis.co.za