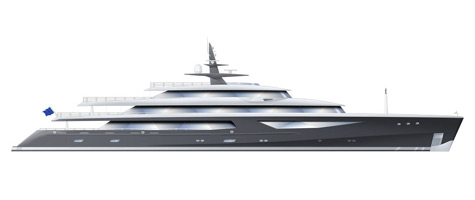 Only a few designs in the last few years have caught the attention of the yachting world, this time it is the Adamantine, a 280ft motor yacht created and designed by naval architect and Designer Ivan Erdevichi. This motor yacht represents what buyers are looking for in a luxury yacht, elegance with a modern flare, with the same toughness you would normally find only in military applications.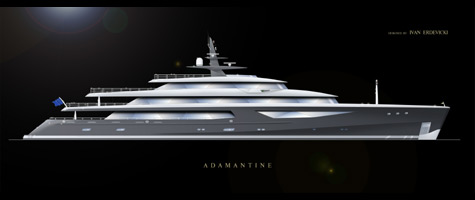 One of the most unique aspects of the Adamantine is it's window design. Instead of a more conventional patterns, the windows on this yacht are carefully shaped into diamonds, with all of them slightly angled forming a snake like pattern. The design is intended to bring the flatness of the superstructure to more of a three dimensional work of art. In contrast, the whole front of the upper decks are of a more rounded surface, with even the windshield rounded at the edges. One the main hull, the windows are set in vertically instead of horizontally, with the same diamond shaped patterns. Now only does this give the same 3D appeal for those looking at it, but also offers a unique use of natural light.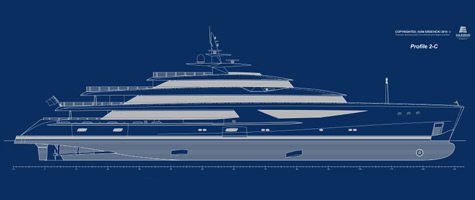 The biggest problem is that there just isn't enough information on the interior of the structure, although it does have four decks. It is 280 feet 6 inches, or 85.5 meters long, a beam of 45′, 3″ or 82.7 meters. Ivan Erdevicki offers the Adamantine in several different window configurations, so it seems to be available in different configurations.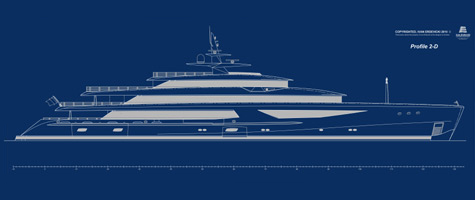 Over the past ten years, Ivan Erdevicki as had more than a hundred different motor and sailing yachts built from his designs. The have ranged from customized work boats and tenders to some of the best know sailing yachts in the industry. With his background of mechanical engineering, yacht design and naval architecture, he has a truly unique way of combining engineering with creative art.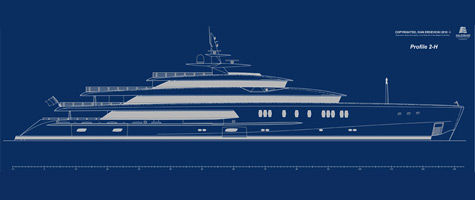 You can see all the different designs created by this company, from the Romanza and Atalanta motor yachts to the Beauty of Montenegro sailing ship online from their personal website.
Specifications of the Adamantine:
Length Overall: 85.5 m/208.6 ft
DWL: 82.7 m/271.3 ft
Beam: 13.8 m/45.3 ft
Draught Max: 3.8 m/12.6 ft
* * *
Related links:
Ivan Erdevicki
Photo: ivanerdevicki.com