Donald L. Blount and Associates, a naval architecture, marine engineering, and design firm is working on a new concept yacht called the Pleasant Climate Explorer Yacht, which is 53 meter's (174 foot) yacht with the hull number PCE53. DLBA is not new to developing concept yachts and has been in the business of doing so since 1988, which is of great benefit to yachting aficionado's that have discerning taste's and an eye for beauty, form, function, and cutting edge concepts. The Pleasant Climate Explorer Yacht promises to have all of those qualities, as well as attract a very exclusive clientele.

The news about the DLBA PCE53 has only just recently been released to the yachting industry and yachting publications in December of 2010, so little is known about this concept yacht such as when construction will actually begin or what shipyard will actually build the 53 meter Pleasant Climate Explorer. However, this does not in any way lessen the anticipation or desire of potential clients that may wish to tour and purchase the PCE53. The PCE53 appears to be the next great superyacht to enter the exclusive world of yachting and Megayacht owners but the finished product will really have to impress.


What is known about the Pleasant Climate Explorer Yacht is that it is not going to be designed and built along the same conventional lines as most other superyachts have been. There will be a great deal of attention spent on building a yacht that pays attention to a Caribbean or Mediterranean lifestyle as well as tropical and sub-tropical land based architecture. The Pleasant Climate explorer is also being designed with maintaining itself as a residence for it's owner for several weeks at a time, and the design will lend itself greatly to an island hopping and cruising lifestyle for the ships master.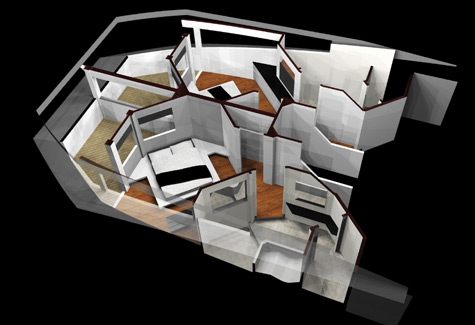 The interior design of the Pleasant Climate Explorer appears to subscribe to the theory that less is more with regard to creating fewer interior compartments and more of an open deck plan where there is more of an indoor/outdoor feel with larger areas. The owner's suite is a bi-level loft design, which is very nice, while guests will be able to enjoy the two-cabana style staterooms overlooking the swim platform at the back of the yacht. The yacht also features four sections that fold down, which will give the yacht 80 square meters of deck that will hang over the water.
* * *
Related links:
Donald L. Blount and Associates
Photo: dlba-inc.com