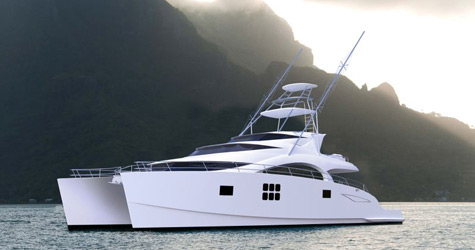 Sunreef Yachts first introduced their 70 Sunreef Power Catamaran in the year 2008. Since that time the 70, Sunreef Power has become an extremely popular semi-custom yacht model by Sunreef Yachts. This awesome semi-custom 70 foot platform is available in Expedition, Exclusive, and now the 75 foot Sport Fish version as well.
The great thing about catamarans is that they are chock full of assets such as stability, long range, low draft, extended storage, and low fuel consumption all due to the catamaran hull design, which of course also offers a very cool, aggressive, and sleek profile.
Sunreef Yachts was founded in the year 2000 by father and son team of Francis and Nicolas Lapp and is located in the famous seafaring city of Gdansk, Poland. This visionary father and son team revolutionized the yachtbuilding industry and yachting community when they introduced their first luxury large catamaran the Sunreef 74 CHE. Since that time the last 10+ years have seen a continuing growth in business, design, and construction facilities making Sunreef not only successful but a force to be reckoned with. Sunreef yachts even have their own charter service in house.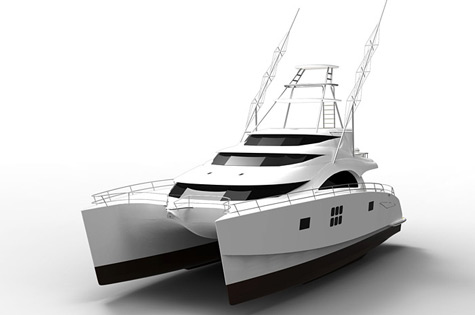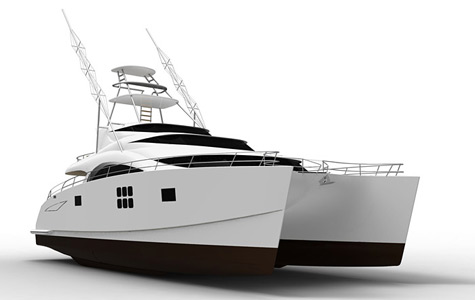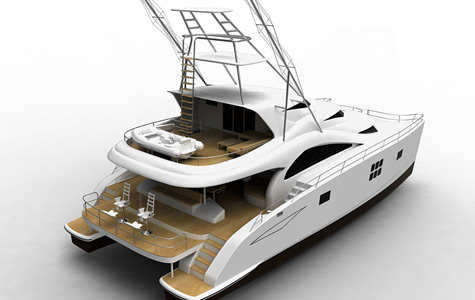 The new 75 Sunreef Sport Fish has of course been extended by five feet in length over its predecessor, but there appears to be many extras crammed into that extra 5 feet too. One of the great features of this catamaran is that it combines the sporty looks and curves of a luxury fishing yacht with a long fishing platform that is necessary for those sportsmen who take their deep-sea fishing as well as their style and comfort very serious. With this design it is not at all impossible for the 75 Sport Fish Catamaran to reach speeds in excess of 30 knots with twin 1000 hp engines or to achieve an 8000 miles range at lower speeds.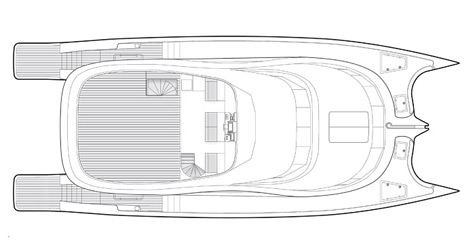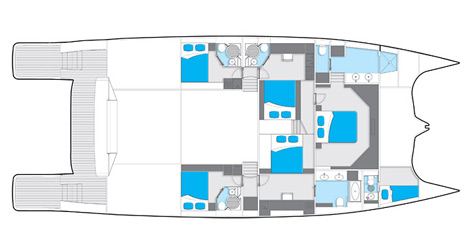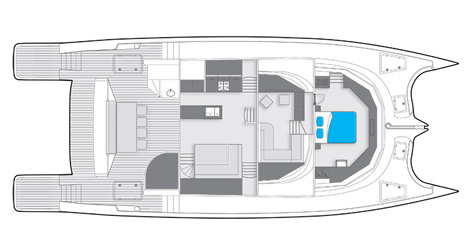 The flybridge of the 75 Sport Fish Catamaran is 40 sqm and is completely and permanently covered with a composite rigid top that allows the cat to be operated even in adverse weather and sea conditions. The flybridge is also equipped with all of the latest state of the art components for navigation, communication, and operation of the 75 Sport Fish model. There is also a one piece anodized aluminum ladder for accessing the tower and outriggers from the flybridge also. The outdoors of the flybridge can be used for sunbathing, dining, bar, as well as for a Jacuzzi and water toys with full customization.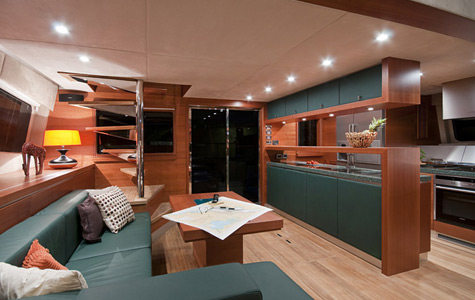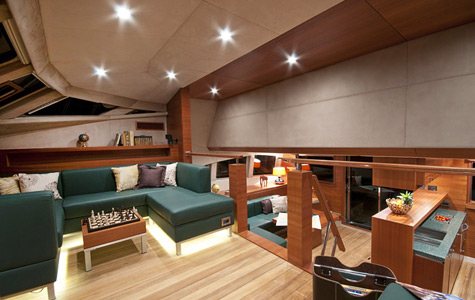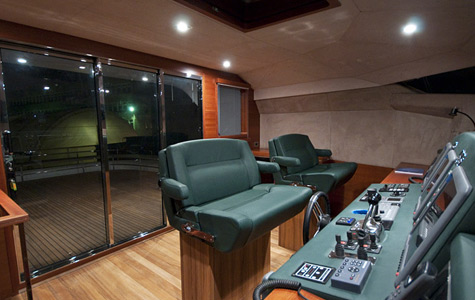 The interior of the 75-foot Sport Fish catamaran is nothing to sneeze at either. The cat can have up to 4 or 5 guest cabins and a 1 double crew cabin depending upon whether it is laid out in an owner or semi-owner version design.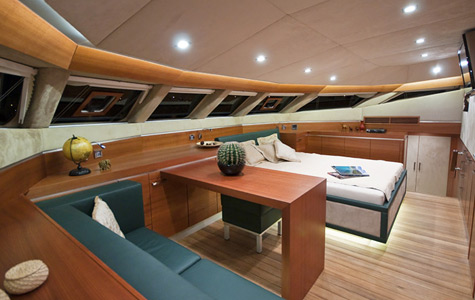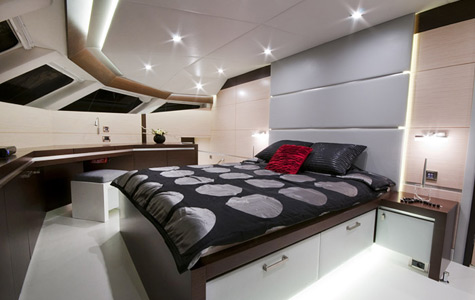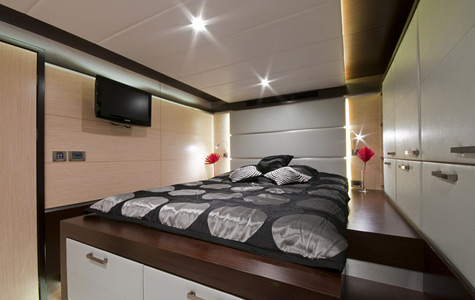 Of course, the fishing side of this boat is awesome with 2 fighting chairs and aluminum plate reinforcement and offset swivel stanchion. There is also stern tuna tubes, large fish box with ice feed, a bait prep station, and large bait freezers. There is ample storage aboard for rods and such too.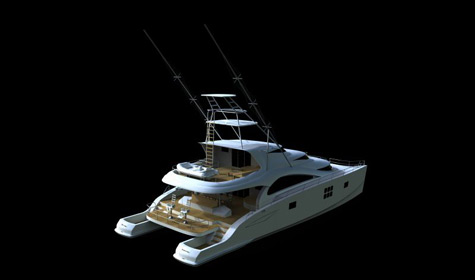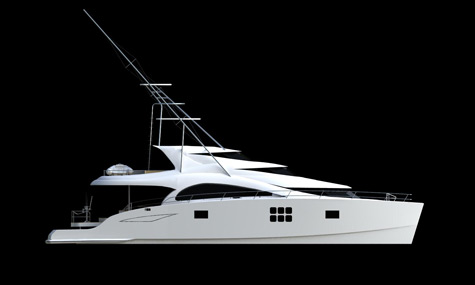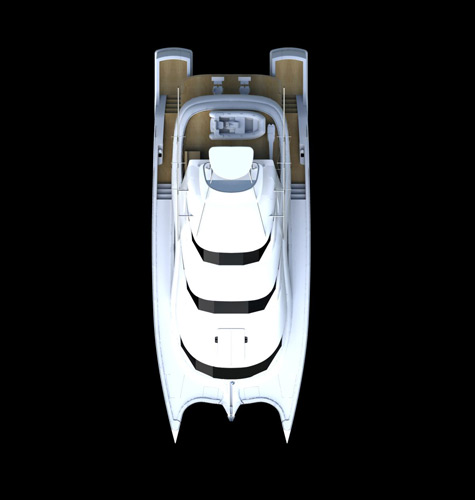 Specifictions of the 75 Sunreef Sport Fish:
LOA: 22,86 m/75 ft
Beam: 9,30 m/30,5 ft
Draft: 1,45 m/4,76 ft
Displacement: 45 t
Engines: 2 x 455 - 1100 hp
Fuel tanks: 2 x 8000 l/2 x 2113.38 US gal
Design and construction: Sunreef Yachts
* * *
Related links:
Sunreef Yachts
Photo: sunreef-yachts.com