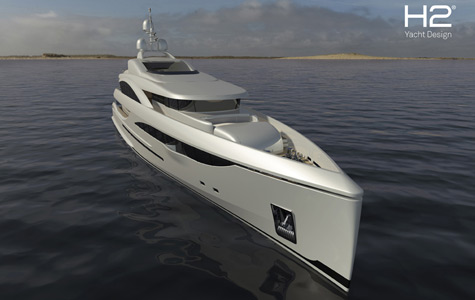 In December of 2010, a new joint project was announced that would bring both Icon Yachts and H2 Design Studio together into a partnership to design and build the latest concept yacht, which is a five-deck 55-meter superyacht. All of this came about due to Icon Yachts incredible success at the Monaco Yacht Show, where they had launched a yacht built on a 50+-meter platform. While partnerships between shipbuilders and design firms are not unique to the yacht building industry, the Icon/H2 partnership is brand new and offers to bring into being a new and exciting creation.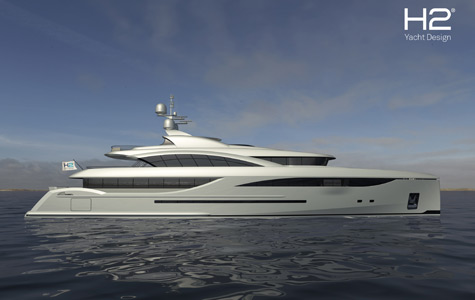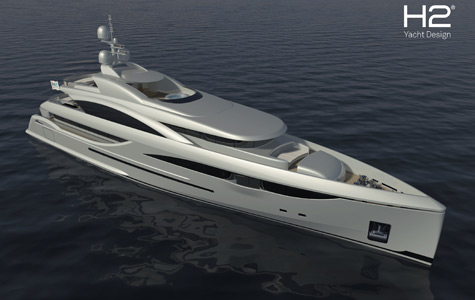 Icon Yachts has been in business since about 2006, but has a great record of building yachts of excellent quality and have a reputation of working closely with the owners of the yachts they are building. The Icon Yachts shipyard is located in the north of Holland, and in addition to awesome dry dock facilities, it also boasts a synchrolift. H2 Design Studio is a yacht design and firm that is charged by its clients with creating a yacht for them that is a reflection of their personalities, likes, and style. H2 Design has an excellent reputation for accomplishing their tasks well.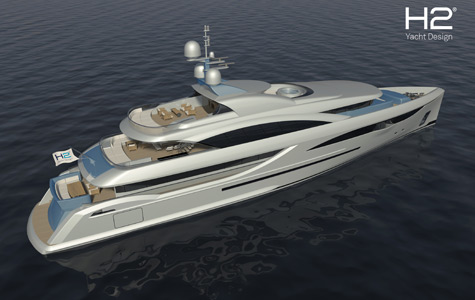 This new 55-meter/165-foot superyacht is a one of a kind unique design that screams state of the art and modern design, while still remaining timeless as a work of art and craftsmanship. This new ship will offer a full beam owners suite, plus a VIP suite, and 4 guest cabins that can accommodate up to 12 guests. The pool with a glass bottom aboard ship is located on the fwd sun deck, while the beach club with its own side balcony shell door has multiple access points for water-borne activities. This 55-meter superyacht also boasts the usual assortment of water toys and a tender stored within its interior.


The construction of this new concept design 55-meter superyacht combines grade A steel shipbuilding material with a superstructure composed of marine grade aluminum. The design of the yacht lends an aggressive look and crispness to the styling of the exterior. The "Plumb Bow" exhibits an aggressive look as well. A resistance analysis test was performed and concluded that this yacht could achieve a max speed of 15 knots and travel over 4000 nautical miles at cruising speed. The ship will also boast the RNA designation "Green Yacht Plus" a label that will certainly increase its market value.
Specifictions of the 5 Deck 55m Super Yacht:
Length Overall: 55 m
Length Waterline: 54.4 m
Moulded Breadth: 9.45 m
Draught: 3.20 m
Hull Material: Shipbuilding grade A
Superstructure material: Marine grade aluminium
Gross Tons: 860
Max. Speed: 15 knots
Range at cruising speed: 4000 nm
Diesel Fuel: 100,000 l
Fresh Water: 20,000 l
Naval Architect: ICON Yachts – Jouke van der Baan
* * *
Related links:
Icon Yachts
H2 Yacht Design
Photo: iconyachts.eu