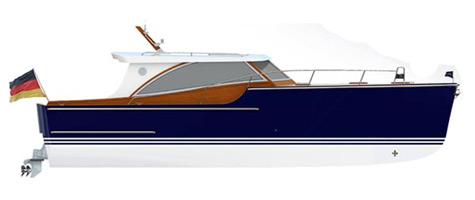 Kiel, the master yacht builders of Brodersby in Germany are at it again, and their newest addition of the KC41 to the Kiel fleet looks like it is going to be a rousing success too. Of course, success is nothing new to Kiel and the company's founder Peter Neumann who designed and built the first 27ft boat that was simple, good looking, and performed extremely well in the waters of the North Sea and the Baltic too. The new KC41 boat looks to be worthy of a place in the Kiel fleet right alongside its sister yachts and a sure bet to be the builders next trendsetter too.
The KC41 itself is a pretty boat with great classic lines and looks that will make other yacht owners with boats in the 41 foot range red with jealousy. The KC41 both inside and out shows a great attention to detail that any ships master would immediately recognize and appreciate, which in the local waters where Kiel boats are born is saying a lot. The first boat ever manufactured was designed specifically for its home waters. The boat had to run dry in order to protect valuable equipment. The boat also had to be seaworthy and fast, and had to be able to be operated easily by one man and the KC41 has the same attributes.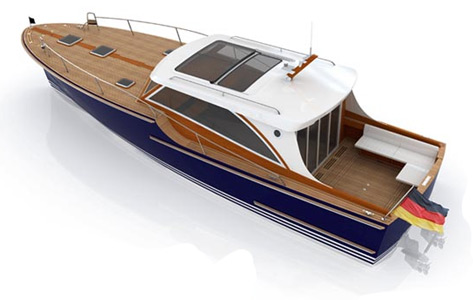 The exterior of the new Kiel Classic 41 footer is very distinctive in its design. The boat sports a bow that is both flared and sports a distinct sheer that is designed to help keep crews safe in heavy breaking seas and counter sea conditions like a winter gale too. The KC41 is the builders first hard-top cabin cruiser and the hard-top makes cruising in the 41 footer a more comfortable experience, while still maintaining Kiel's philosophy of being a fast boat that possesses great sea keeping attributes. The KC41 does not give up performance for comfort, but both are found in it's design.
The interior of the Kiel Classic 41 foot boat is a very nice place to spend time while cruising. The twin deck KC41 really does have a lot to offer its passengers within it's 41 foot length and 12 foot beam. The main deck of this cabin cruiser sports a saloon, galley, and the helmsman station as well as plenty of seating and an aft cockpit that contains lots of space. The lower deck of the KC41 contains the owner's cabin, a twin-berth cabin, a large shower and WC too. Twin Volvo D6-370 diesels power this beautiful cabin cruiser and can achieve a top speed of up to 32 knots, which is a very nice character for this cruiser to possess.
Specifications of the Kiel Classic 41:
Length hull: 12.57 me/41 ft
Length over all: 13.77 m/45 ft
LWL: 11.83 m/36 ft
Beam: 3.70 m/12 ft
Draft: 0.60/1.10 m/ 1.9 / 3.5 ft
Displ. mid voyage: 9,5 tons
Engines: 2x Volvo D6-370 Diesels
Top Speed: 32 knots
* * *
Related links:
Kiel
Photo: kiel-classic.com