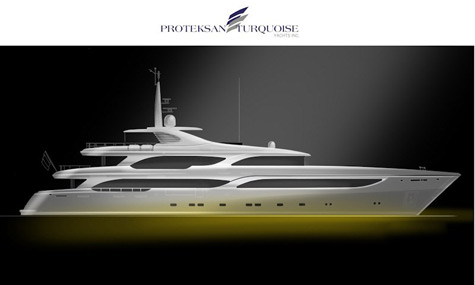 Prokestan-Turquoise Hull Number NB56, Project Thunder will be an enormous yacht measuring 49.90 meters, granting more than enough room for the permitted number of passengers. In other words, once the NB56 is completed it will support up to up to 12 guests and 12 crew members if you so desire. Because only one of these boats is being created as of right now, it is unsure as to whether or not it will be available for charter once completed. It is entirely possible that it will be a private yacht for a wealthy individual.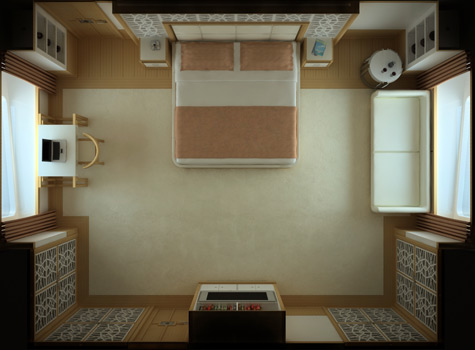 As you might be able to imagine, this gigantic boat features more than a few amenities. Naturally, you will have the standard crew quarters along with the guest quarters, and of course a full kitchen. The master bedroom and bath will momentarily make one wonder whether they are still on the boat, or if they have by chance been swept away to a five star hotel.
With a full load, this boat will displace a total of 585 tons and the maximum speed is 15 knots. Cruising speed is 14 knots meaning the maximum range is approximately 3,000 nautical miles. As you might expect, the fuel tank holds slightly more than average at 76,690 lbs, and this is necessary for the boat's journeys to various outlying islands, ports, or even fishing destinations.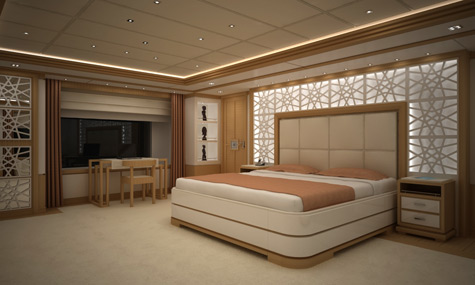 There are plenty of features on this boat, certainly every one that you would expect to find on a yacht of this caliber. Not, it is not a cruise ship, but it is also not your average fishing boat. Each side, even the front saloon features a panoramic view of the ocean as you sail along toward your next exotic destination.
Whether you'll be able to charter the boat is a mystery, but if you can, then it is strongly recommended that you at least look into the pricing. There is no doubt that one will find this boat to be amazing, especially considering the modern amenities it is equipped with. This is a pleasure cruise through and through, and it contains enough safety equipment to get you there and back without any serious problem or delay.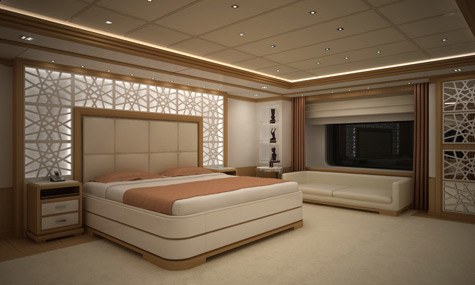 If nothing else, we can hope that this boat sets an example for many other yachts and super yachts in the future. That is of course an example of excellence and functionality that is only seen on top of the line boats. In addition to that, safety should be one of the utmost concerns, especially considering the nature of the expedition on which you will be embarking. The high seas are out there, waiting for the lucky owner or renter of this yacht.
Specifications of the Proteksan-Turquoise Thunder:
Length Overall: 49.90 m/163.71 ft
Length Waterline: 45.55 m/149.44 ft
Beam: 9.30 m/30.51 ft
Draught Max: 3.10 m/10.17 ft
Hull Material: Steel
Superstructure: Aluminium
Gross Tonnage: 604
Displacement: 585
Guests: 12
Crew: 12
Fuel Capacity: 76,690 l/20,262 gal
* * *
Related links:
Proteksan-Turquoise
Photo: proteksan-turquoise.com