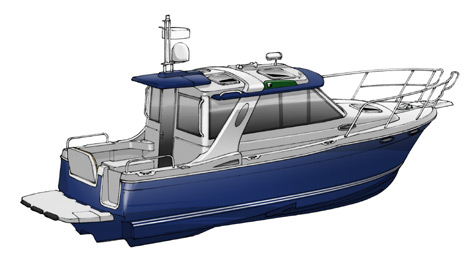 Cutwater Boats is a new line of trailerable, pilothouse cruisers being introduced by Fluid Motion, LLC, the designers and builders of the popular line of Ranger Tugs. A Cutwater 26 and Cutwater 28 will be the first two models built and their express style and innovative hull design provide flexibility for fishing, entertaining and cruising.

The Cutwater hull is a revolutionary and innovative hull design introduced by Dave and John Livingston, owners of Fluid Motion. The Keel Stepped Hull is a blend of a semi-displacement hull shape with reverse chines and a keel which provides superb handling performance. A high pressure bump in the hull allows the engine to be mounted low in the hull contributing to a low center of gravity and when combined with the prop pocket keeps the Cutwater's draft at just 28 inches. The low engine mount also creates a shallow six degree shaft angle allowing for more net thrust with less horsepower which translates into greater fuel efficiency. This combination of design details contributes to stability, speed and fuel economy.
Cutwater Boats are ideal for couple's cruising with a full beam v-berth master stateroom and en suite head. The living area of saloon, galley and helm are all in the pilothouse space with 360-degree visibility through quality Diamond/Sea-Glaze windows. The saloon and cockpit are on the same level allowing for ease of movement from one space to the next which are separated by a weathertight hinged door.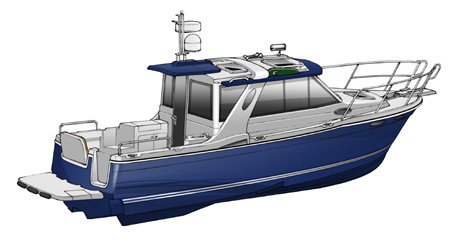 From the innovative hull shape to reliable standard equipment and a practical interior layout, Cutwater Boats are a multi-purpose design for inland and coastal cruising. A functional cockpit includes aft seating with storage underneath and boarding access via a molded-on swim platform. The standard Yanmar diesel engine is housed under the cockpit sole and under deck compartments also store an optional Mase diesel generator plus provide ample storage.

The Cutwater line of boats will be built at a dedicated facility in Monroe, WA, ensuring high-quality construction as well as cost efficiencies from leveraging the Fluid Motion experienced crew of builders and craftsmen. The boats will be distributed through a unique, nationwide dealer network and Fluid Motion has named Mark Mansfield National Sales Manager for Cutwater Boats; Mark is a veteran in the boating industry and has been part of the Fluid Motion team for the past 18 months.
The first Cutwater 26 and 28 will debut at the Seattle Boat Show, Jan. 21-30, 2011 at the company's exhibit in the West Hall of the Exhibition Center. The East coast debut of both models will be at the Miami International Boat Show Convention Center, Feb. 16-21.
Specifications of the CW 26:
LOA: 25'7″
Beam: 8'6″
Draft: 26″
Weight (dry): 5,900 lbs
Engine: Yanmar 4 BY2 180 HP
Fuel capacity: 80 gal
Water capacity: 40 gal
Specifications of the CW 28:
LOA: 28'0″
Beam: 8'6
Draft: 28″
Weight (dry): 6,400 lbs
Engine: Yanmar 6 BY2 260 HP
Fuel capacity: 100 gal
Water capacity: 40 gal
* * *
Related links:
Fluid Motion
Photo: cutwaterboats.com