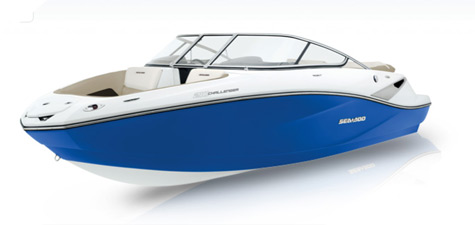 Sea-Doo has outdone itself once again with the 210 Challenger boat. You may be surprised at just how many features this boat is packing, and chances are you'll never want to own another boat!
First of all we will discuss the various safety features, the most important being the lack of sharp edges on the boat. The boat features an inverse propeller which will serve to help avoid any injury or even death that is normally associated with external propellers. This will not affect the boat's momentum in any way, and there are plenty of other features where that came from!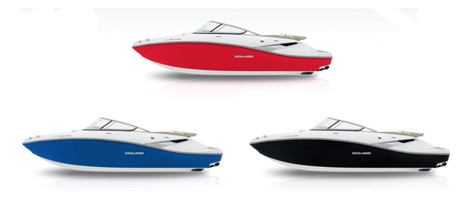 The length of the boat is 20′, and while you won't be sailing the high seas or searching for lost treasure with this boat, you will certainly be able to take that dream family vacation that you've desired for so long! One of the most amazing features of the 210 Challenger is the 12-inch shallow draft that will permit you to explore many places that other boats simply cannot. You will be able to avoid many hazards including rocks, boat ramps, and other obstacles that may become present in shallow waters.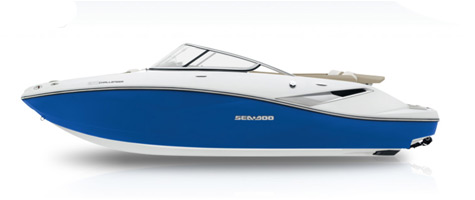 This is a short range boat, but it does feature a ten person seating arrangement, and as with most Sea Doo boats you will be able to rearrange the seats at will, even placing them on the back of the boat providing both you and your guests to lounge on the water. While we're on the subject of the back section it should be noted that it is low to the water and therefore makes a great platform for you and your guests to enter the water. To make it even better, the platform is so low to the water that swimmers can easily re-enter boat, making ocean swimming or even lake swimming safer than ever before.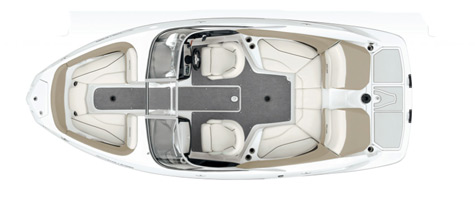 The Sea Doo has a fairly decent range with a 44 gallon fuel capacity, and if you plan to be on the water all day you could make sue of the 56.6 foot storage capacity. To make it even better, the boat comes in several different colors which include Riviera Blue, Glorious Red, or even black if you so desire.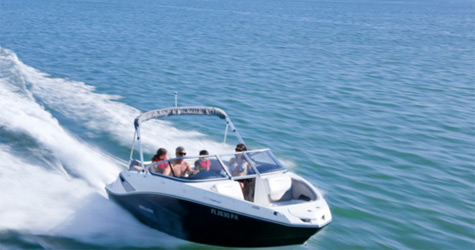 The 210 Challenger provides for a perfect balance between ergonomics and aesthetics, meaning you will not only have a great ride, you will also have extremely responsive controls which will most definitely give you a smoother experience than was possible on other boats. That being said, this is definitely the boat to look at when it comes to family vacations, so start looking for more information on this craft, and it won't' be long before you're cruising the bay and enjoying life on the water.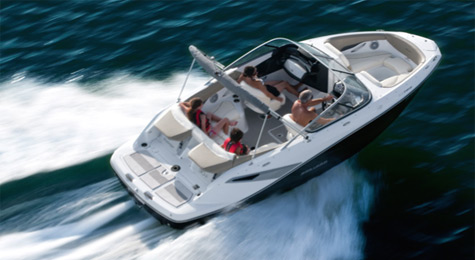 Specifications of the Sea-Doo 210 Chalenger SE:
Length: 6.25 m/20′ 6″
Beam: 2.59 m/8′ 6″
Weight: 1,406 kg/3,100 lb
Storage Capacity: 1.6 m³/56.6 ft³
Seating Capacity: 10 persons (743 kg/1,638 lb.)
Fuel Capacity: 166.5 l/44 gal
Colors: Riviera Blue, Glorious Red, or Black
* * *
Related links:
Sea Doo
Photo: sea-doo.com