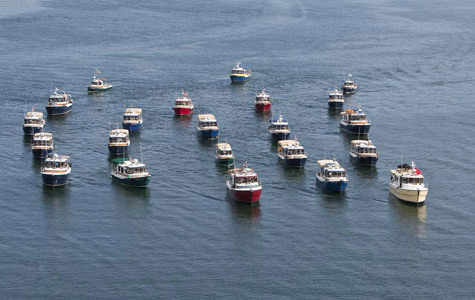 Ranger Tugs hosted the second annual Owners Rendezvous event for Ranger Tugs owners and their crew at the Port of Bremerton Marina in Washington. The company welcomed 42 boats in September which was 10 more than last year's inaugural event. With over 1,000 Ranger Tugs owners in the U.S. and Canada, the Owners Rendezvous is a growing event and a testament to the camaraderie and lifestyle that the trailerable, fuel-efficient boats offer.
Based on the popularity of the event, Ranger Tugs is already planning for 2011 and the event will again be in Bremerton, Sept. 9-11, 2011; registration is available on the owners group website.
David and Maureen Baker served as the 2010 event's volunteer organizers and are owners of the Ranger 29 Karma. Ranger Tugs owners and enthusiasts in attendance traveled from across North America and from as far away as Virginia; many brought their boats by trailer, then launched locally for the short cruise to Bremerton.
"Our volunteer organizers did a terrific job putting together an entertaining and informative agenda," said Ranger Tugs Vice President, Jeff Messmer, adding, "This year's increase in attendance reflects the close relationships we enjoy with our customers, and corresponds to our growth in the adventure cruising market."
With boats ranging in size from 21 to 29 feet, the event's Tug Crawl is an open house that allows owners to see models of all sizes, share insights and ideas on equipment, décor or other personalized touches. In addition to the social aspects of the rendezvous, the weekend included several education opportunities. A service seminar presented by Mer Marine, an area MER Yanmar service center, featured a demonstration of fluid and filter changes and the local power squadron from Port Orchard, WA, was also on hand to perform courtesy exams and safety checks.
At the close of the rendezvous, the Bakers and Ranger Tugs staff announced that next year's rendezvous will be held Sept. 9-11, and immediately began booking reservations from several owners in attendance. The 2011 goal is to welcome 75 boats and their owners and crew to the event.
* * *
Related links:
Ranger Tugs