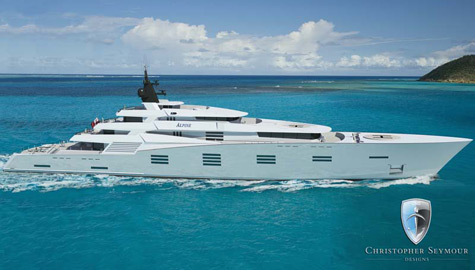 Christopher Seymour presents the 122-metre superyacht project Alpine, which will be able to travel on practically all weather conditions.
Alpine will have the main dining room, theatre, gym, library, and VIP suite on Deck One. The exclusive dining area with the lounge and the owner or special guest suite with the access to the main helicopter pad will be located on the Deck Two.
Deck Three will house more living areas, another helicopter pad and the bridge. The Deck Four will host a pool and sun chairs. Alpine will boast a beautiful spiral stair case and a cylindrical glass elevator, which will enable access throughout all the decks.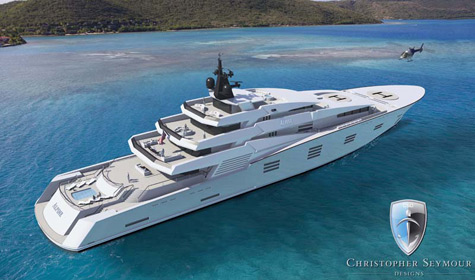 Motor yacht Alpine will be able to store two tenders and will have a room for a RIB inflatable, small sailing tenders and a couple of jet skis. She will also have a custom 36 foot express sport fisher, which will be built by Lightning Yachts and will utilize the latest materials available.
The new superyacht will have an estimated top speed of around 18 knots and cruise speed of around 15 knots.
* * *
Related links:
Christopher Seymour Designs
Photo: christopher-seymour.com