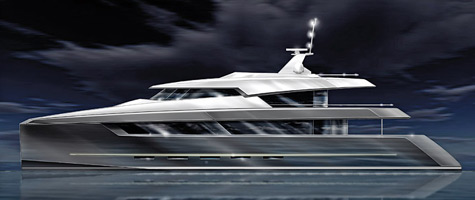 There is just something about a catamaran that inspires greatness. Perhaps it is that they can be as large as regular yachts, and be either sailing vessels, or motorized. Maybe it is because they seem more stable in the water, have more elaborate and open floor plans, or that they just are the conventional yachts you would think of. What ever the reasons, just the thought of a catamaran, no matter how small or large, makes your think of tropical islands, relaxing on a sun deck with a margarita, and enjoying some much needed relaxations.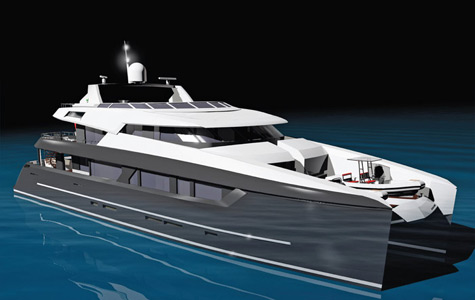 The 40 Meter Sunreef Power Catamaran is no exception. Developed with BMT Naval Architects, this is perhaps the latest and greatest Sunreef Yacht project, and a new and innovative range and look of power catamarans. This is one catamaran style power yacht that is indeed built for speed as well as luxury. For starters, it is powered but twin diesel motors for top speeds up to twenty knots, and a range of more that 2,500 nautical miles. If this isn't enough speed for you, two other models are also offered, one that is capable of 32knots, and another that has two diesel as well as two turbine engines that can reach speeds of more than forty knots!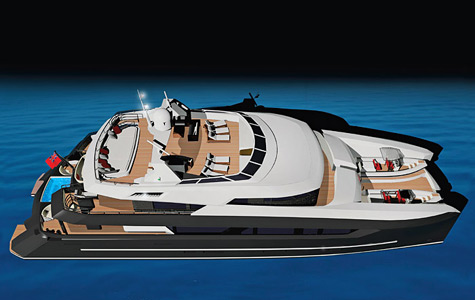 The interior spaces of the 40 Meter Sunreef is divided into three different levels, with the lower lever spit into two half shell sides. On the main deck you will find two VIP quarters, a gym with a terrace opening, as well as a fully equipped, state of the art galley. This is also where the main living areas are located, and this catamaran has the ability to easily accommodate up to twelve guests, both inside and out. There is a large bar and lounge area that gives access to the aft terrace and pool through a set of sliding doors. There is also a full gym, with sliding doors to an outside terrace, so you can have your work outs inside or out.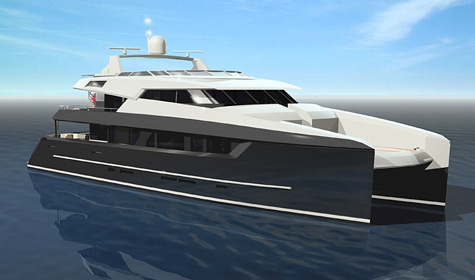 All of the upper deck area that isn't being used for controlling the yacht is devoted to the owner's master suite, which offer spectacular stern views. This massive suite has an aft facing centrally located bed. It also features a large walk in closet, as well as an office. There is also the option to have your own private sky lounge. This is also where the en-suite captain's living area is located, with easy and private access to the wheelhouse.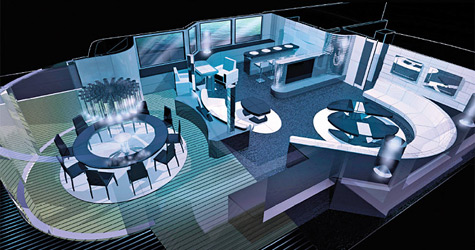 The lower deck has all the crew accommodations to the port side of the demi hull. This area has enough cabins to accommodate six crew, as well as the crew galley and mess. This is also where the laundry areas is located, as well as access to the other decks. One the starboard hull, two VIP en-suite cabins are located, and there are options for either a single suite, or even another master suite. Both of these cabins are fully equipped with bathrooms as well as ample storage.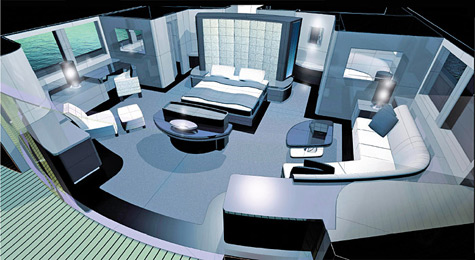 The exterior spaces are relaxing and well planned. With generous outdoor seating, and sun bathing couches. The main deck has an extremely large forward space that is home to two tenders of 6 meters each, as well as a launching crane. There is also a garage for water sports and jet skis.
Specification of the 40 Meter Sunreef Power Catamaran:
Length: 39.93 m / 131.00 ft
Maximum Beam: 11.8 m / 38.70 ft
Draft: 1.89 m / 6.20 ft
Construction: Aluminum
Displacement: 206 T
Main Engines: 2 x 1,920 HP
Naval Architecture: BMT Nigel Gee
Interior Design: Design Unlimited
* * *
Related links:
Sunreef Yachts
Design Unlimited
BMT Nigel Gee
Photo: sunreef-yachts.com