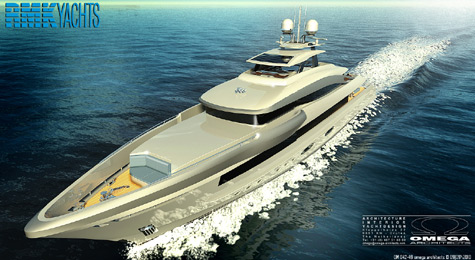 Frank Laupman and Omega Architects have been invited to develop a new 50m yacht for RMK Yachts due to their reputation for creating elegant, sleek, superfunctional yachts.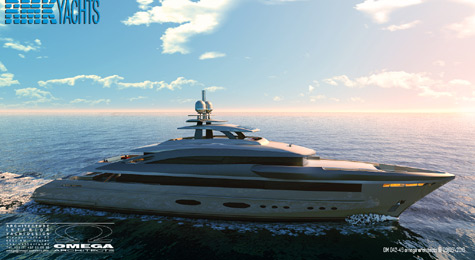 The vessel's guiding vision lies in the goal to "truly connect to the elements". This vision is apparent in bold strokes in the new vessel's 13 meter long open aft deck, which integrates into the swim platform by utilizing an "amphitheatre-style" stern that allows the aft main deck to extend down to the waterline fluidly and elegantly. By employing this gradual transition the threshold between the vessel and the water has nearly disappeared.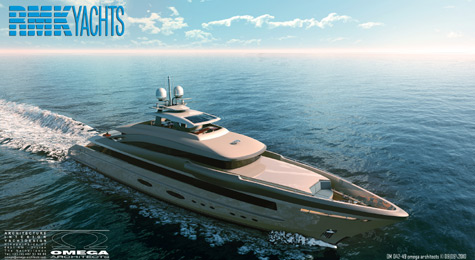 Another way Omega has redefined these elemental relationships is in the way the saloon is truly oriented to flow functionally into the aft-deck area, by incorporating an aft facing bar at the end of the main saloon, and by orienting the saloon seating aft as well. In allowing for this emphasis, the open air quality of the outside deck has been "pulled into" the interior. Ultimately, rather than defined as separate areas, the entire main deck has been designed as a sequence of connecting spaces, ending at the swim platform, just over the waterline.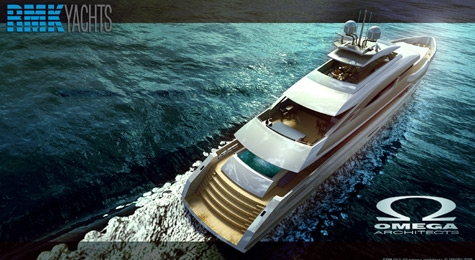 In another grand gesture, the design's form and silhouette emphasize the invitation and connection elements of this vessel, as from the wheelhouse deck you will see the superstructure reaching down to touch and integrate with the aft overhang, thereby emphasizing these themes of relationship. This form creates a unique semi-enclosed aft deck to provide protection, privacy, and a sense of safety while still allowing connection with the air and elements.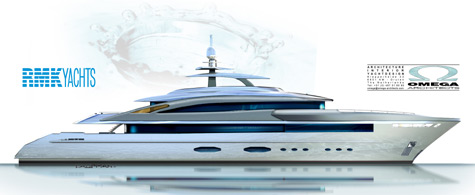 Adjacent to this protected area, there are proposed two variations for the interior. One offering a VIP cabin with an ensuite sky lounge to open up to this unique private aft deck, and the second variation offers a comprehensive, luxurious owners suite and aft deck.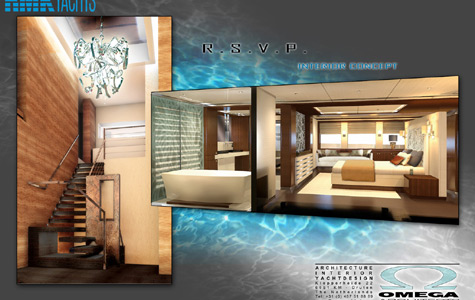 * * *
Related links:
RMK Yachts
Omega Architects
Van Oossanen & Associates
Photo: rmkyachts.com