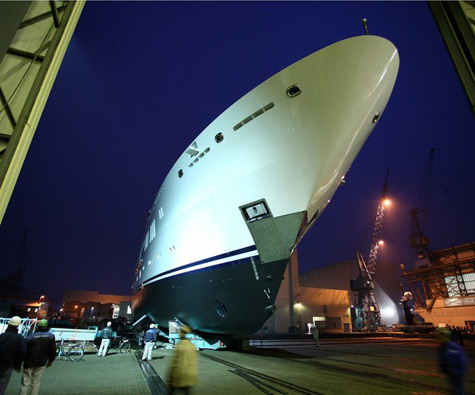 The German shipbuilder Lurssen is currently putting the finishing touches on its fifth successful launch of 2010, which is called Hermitage. Just like the other yachts launched this year by the venerable shipbuilder the 68.50-meter superyacht promises to the latest and greatest in technology, design, luxury, and taste. This latest Lurssen build will grant this ships master some serious bragging rights both in port and on the high seas when they finally get to join the exclusive community of superyacht ownership. Designers Espen Oeino and Andrew Winch should be proud of this accomplishment.
Of course, it is the shipbuilder who has made the Hermitage build a success and Lurssen as usual is deserving of the credit and kudos for this their latest hull to be launched. Lurssen has been in the business of building both personal and military watercraft and have been in business since 1875. Although headquartered in Germany Lurssen is truly an international force in yacht building with several shipyards in their group, Lurssen is also a family business, but it invests greatly in its employees and artisans joining the human touch and state of the art technology into a precision instrument.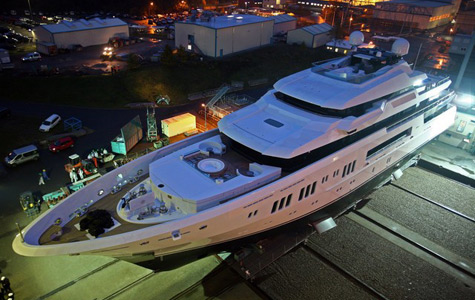 The Hermitage is made constructed of an all aluminum superstructure and a steel hull, which will make this ship very sturdy, but also much lighter in weight than a conventional all steel hull and superstructure would be. The skin of this beautiful vessel combines the latest and best in technologies and materials that will not only add to the strength of Hermitage, but will also give her a very attractive profile from either near or afar. The hull of Hermitage gives this ship a length of 205 feet with a beam of just over 36 feet while sitting in the water at about 12 feet.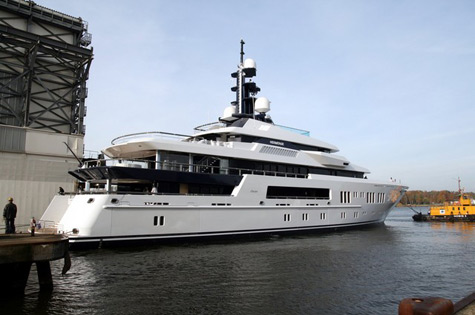 While information on the interior of Hermitage is sketchy at best right now there are a couple of things that we do know for sure. First off, we know that Andrew Winch created the conceptualization and design of the Hermitage interior, which means that virtually no expense was spared with regard to the interior of this superyacht with regard to comfort, technology, and functionality. Another thing we know is that the Hermitage can accommodate up to 12 guests in luxury staterooms as well as the owner and a crew due to the large interior offered by the size of the ships beam.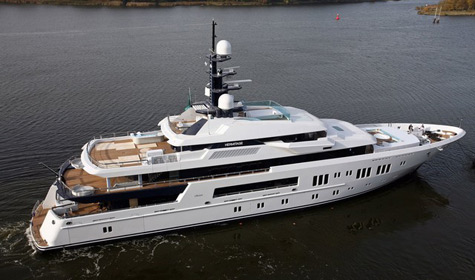 There is definitely more information on the exterior of the superyacht Hermitage because of data released by Lurssen as well as by those who have been aboard Hermitage or have just seen her. The Hermitage sports a good-sized pool on the sundeck as well as a Jacuzzi over looking the bow of the ship. There is tender storage in aft garages aboard ship and storage something like a rescue tender or maybe PWC's forward of the superstructure. We also know that this ship is a twin screw with a max speed of 15.5 knots.
Specification of the Hermitage:
Length Overall: 68.15 m/223.59 ft
Beam: 12.80 m/41.99 ft
Draught Max: 3.65 m/11.98 ft
Hull Material: Steel
Superstructure: Aluminium
Max Speed: 15.5 knots
Naval Architect: Lürssen Yachts
Exterior Designer: Espen Oeino International
Interior Designer: Andrew Winch Designs Ltd.
* * *
Related links:
Lurssen Yachts
Andrew Winch Designs
Photo: lurssen.com