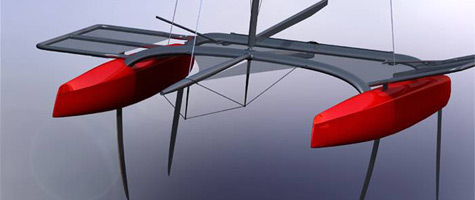 Morrelli & Melvin Design and Engineering announced the production of the SL 33 grand prix catamaran.
Morrelli & Melvin has collaborated with other world-renowned multihull specialists Hakes Marine in New Zealand, Streamline, North Sails and Landenberger Sails in Germany to design and build this beautiful and innovative catamaran SL 33.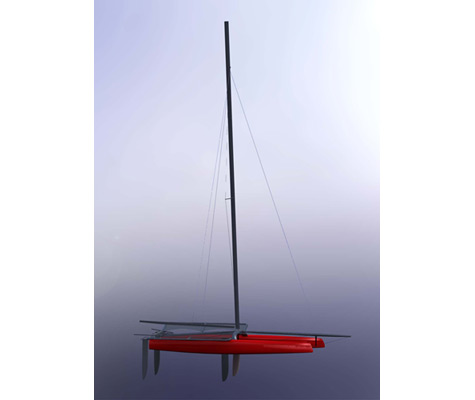 Just under 10 meters (33 ft) long by 5.4 meters wide (17.71 ft) and 535 kgs (1320 lbs), the fully demountable SL33 is optimized for winds under 15 knots, because time and again light air proves to be the deciding factor in distance races.
Lightweight and strong, the hulls and beams are constructed of Epoxy carbon fiber prepregs and NOMEX honeycomb cores. Its curved carbon fiber daggerboards and dagger rudders are designed for peak performance across all wind ranges giving the four to five man crew the opportunity to push hard even in heavy winds and seas.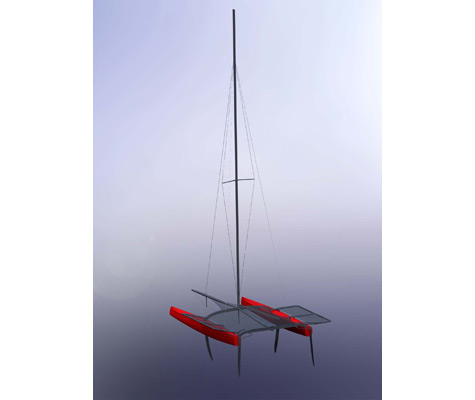 "We keep testing the limits of hull shapes, materials and performance with our racing designs. We have seen quantum leaps over the past two years, particularly with all of the developments that came out of the 2010 America's Cup. It's been a pleasure to share ideas with other multihull enthusiasts and design and develop a boat that all of the sailors and teams who want to experiment with multihull sailing can have in the very near future", – Pete Melvin, Morrelli & Melvin co-founder.
"It's the right concept at the right time. This boat will be great for lakes, bay and coastal day racing. It's going to be a mini rocket ship …!" – Gino Morrelli.
Specification of the SL 33 Catamaran:
LWL: 10.00 m
BOC: 5.40 m
BOA: 8.16 m
weight: 535 kg
* * *
Related links:
SL 33 Catamaran
Morrelli & Melvin Design and Engineering
Photo: slperformanceraceboats.eu