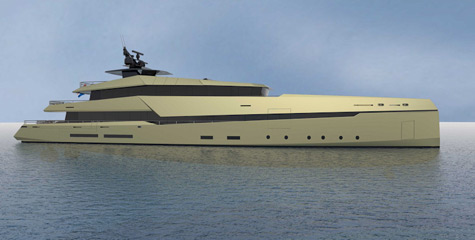 Ghost Yachts and the Italian design studio Gloss Design joined forces with Imtech Marine & Offshore on the development of the Ghost G180H, the first full hybrid superyacht. The G180H is the company's next step towards more sustainable, innovative and efficient superyachts.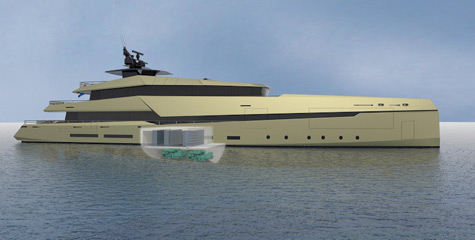 Ghost G180H' Fast Displacement Hull Form (FDHF) by Van Oossanen & Associates offers the required efficiency to operate a large yacht with a relatively modest propulsion power. Imtech's smart Hybrid system combined with Van Oossanen's revolutionary FDHF have proven to be a perfect combination for a sustainable and efficient yacht.
Ghost Yachts reduced the required technical space by dividing the Hybrid's technical space in two levels. The silent parts of the hybrid system like the Power Electronics Panels, batteries, and main switchboard are located on the lower deck while the four Volvo Penta D16G generators are located in an insulated engine bay underneath the electronics room. The Ghost G180H is propelled by two completely new electric Voith Inline Propulsors (VIP) of 750 kw each. The Hybrid system operates in seven different modes ranging from battery only to full hybrid operation. Each mode is specifically designed to ensure an optimal efficiency in every situation. The system is controlled by Imtech's new IMAS variable frequency drives control system, with interfacing and remote control via the FT NavVision IPMS system.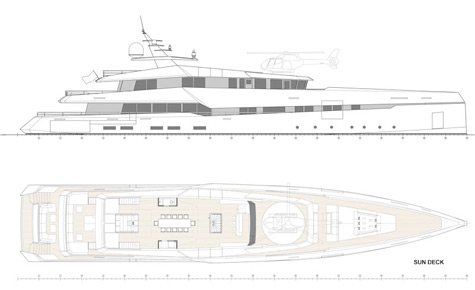 The G180H has been thoroughly reviewed to learn about the power consumption in navigation and at anchor. The prime consumers have been reviewed to see how much power could potentially be saved. To reduce the power requirement for the chillers and fancoils the G180H's windows are coated with a ceramic film that blocks out up to 80% of the sun's heat producing infrared light. The HVAC system is assisted by a cold water storage to extend the operational time of the system during battery only operation.
The interior of the yacht is also designed to require less energy from the HVAC system. The main salon and dining room, for example,  are equipped with four generous lateral sliding doors which provide access for a natural breeze that flows through the superstructure. The layout will create a more natural and balanced climate inside this large space by virtually connecting it to the outside areas. Van Berge Henegouwen reworked the AV and communications systems to optimise power consumption. A thorough review of the systems' components and the extensive use of LED lighting guaranteed a lower energy consumption.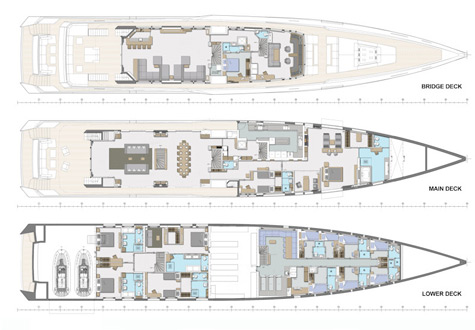 Ghost Yachts has compared the G180H to a number of modern displacement yachts with a comparable length and volume. The overall fuel consumption was reduced by a vast 30% while the fuel consumption for hotel operation showed savings of up to 50%. The performance of the yacht is perfectly in line with today's superyachts offering a cruising speed of 15.5 knots with a range of over 4500 nm at a 13 knots passage speed.
Specification of the Ghost G180H:
Length over all: 55,00 m/180 ft
Breadth: 9,20 m/30 ft
Draught (fully loaded): 3,00 m/9,84 ft
Hull material: Steel
Superstructure: Aluminium
Displacement: 755 t
Gross tonnage: 670 GT
Generators: 4 x Volvo Penta D16 MG 450kW @ 1.500 rpm / 500kW @ 1.800 rpm each
Propulsion: 2x Voith Turbo Inline Propulsors of 750kW each
Bowthruster: Voith Turbo retractable Inline thruster of 200KW
Cruising speed: 15.5 knots
Range: 4.500 nm @ 13 knots
Fuel tank capacity: 74,000 l/19,500 gal
Fresh water: 18,000 l/4,750 gal
Guest accommodations: 12
Crew accommodations: 12+Captain
Naval Architecture: Van Oossanen & Associates
Design: Gloss Design
* * *
Related links:
Ghost Yachts
Gloss Design
Imtech Marine & Offshore
Photo: ghost-yachts.com