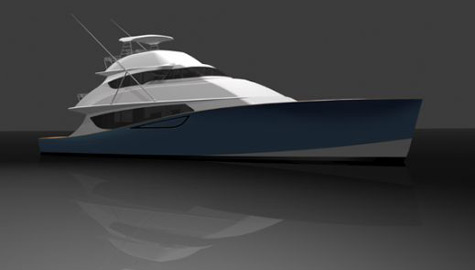 There are some people who like to fish, and then there are those who simply want a luxurious yacht ride. In the past one would need to purchase two separate watercraft for this, but believe it or not, all you need to do now is purchase the 105 Yachtfish. This is a vessel that provides the characteristics of a sport fishing boat with a long range yacht.
When one things of a long range yacht, one will typically think of a boat that contains all of the proper amenities for an extended stay at sea. Those who think of this will be glad to know that the main deck features a salon that opens forward and reveals a large galley along with a dining room. This dining room provides a great view for watching the fishing on deck without actually entering the deck area. In addition to that it provides a great area for conversation!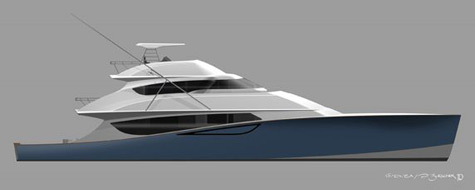 There are three steps that lead to the cockpit, and the cockpit is outfitted with fish boxes, tackle stations, and even a decent fighting chair. As you can see, there are plenty of amenities on this boat, enough for a serious long term cruise. Whether you want to visit Hawaii or some remote island in the pacific, you're pretty much set.
The boat's infrastructure permits for eight guests, one captain, and two crew members to see to the crew during those long voyages. But how long can the boat remain at sea? The current study into the efficiency of this boat reveals that the craft while relying on a slender hull and a high-spring speed can actually travel up to 2,800 nautical miles which is certainly further than most sport fishing craft!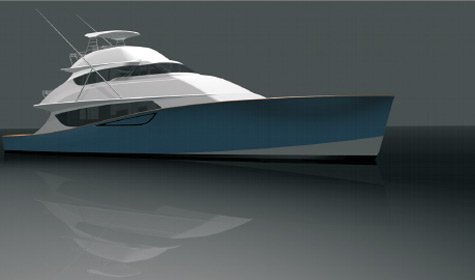 The upper portion of the boat has been designed specifically to provide a feel of 'openness' throughout the entire structure. Both sides of the bridge open, providing access to the walkaround on the edge of the boat. Not only does this provide an open atmosphere, it also provides a sense of freedom that you would find on few other boats of this size.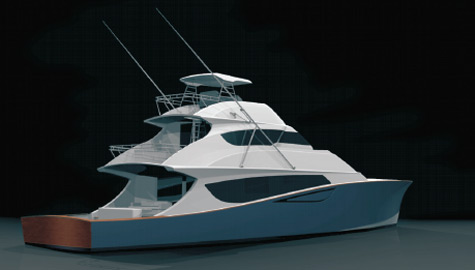 Remember that boating is so much more than a hobby. To many it is an experience. The wind in your hair, the feel of the wind rushing through your hair, the deck beneath your feet, and the sound of rushing water as you cruise at 25 knots. This alone is an incredible experience, but to combine it with the feel of a fishing expedition is absolutely priceless. Prepare to have the experience of a lifetime as your cruise the high seas, draw in your latest catch, and compose stories of your nautical adventures for your friends and family to hear later!
* * *
Related links:
Donald L. Blount and Associates
Photo: dlba-inc.com