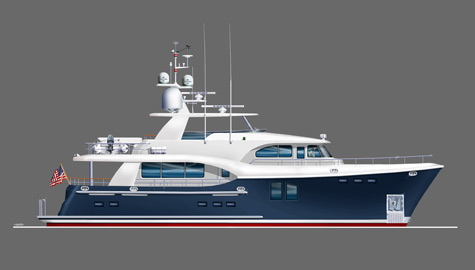 Pacific Asian Enterprises, Inc is a company that has managed to stretch the limits of boating for years and they continue to do so with the introduction of the Nordhavn 78. This is a long range, contemporary yacht that can provide proper amenities and comfortable conditions for those who want to have the experience of an ocean crossing in an incredible traditional yacht.
Yes, the Nordhavn 78 maintains the traditional yacht feel with all of the modern amenities. First of all, an emphasis has been placed on outdoor living, and this emphasis begins on the flybridge. It is a huge open deck area that features a jaccuzi, wetbar, and even a barbecue. The foredeck features a typical lounging area for passengers on the boat to simply relax.
The interior features a modern design with two guest rooms, crew quarters, and off-duty staff quarters. The accommodations available on this boat will ensure that everyone, the guests, the captain, and the crew sleeps comfortably and has a pleasurable stay no matter how far out at sea the boat happens to be.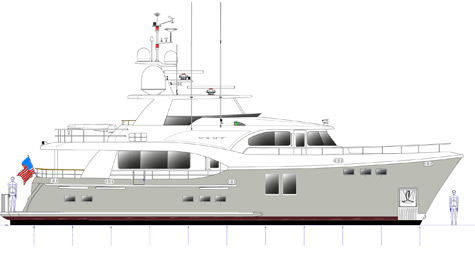 New possibilities have been set forth with the opening of the cockpit, and if you choose to employ a crew, the boat does a great job of segregating the crew from the rest of the ship. The ship is made to be operated without a captain, but if you feel more secure with a professional, certified crew, then you are most certainly entitled to bring one aboard.
The N78 can support 5,700 gallos of fuel along with 600 gallons of drinkable water. The boat is propelled by two Cummins GSm11DM-425 Engines and is capable of traveling at 425 horsepower. With a displacement of 252,000 lbs or 114.3 metric tons, this boat is sure to make an impact wherever it goes!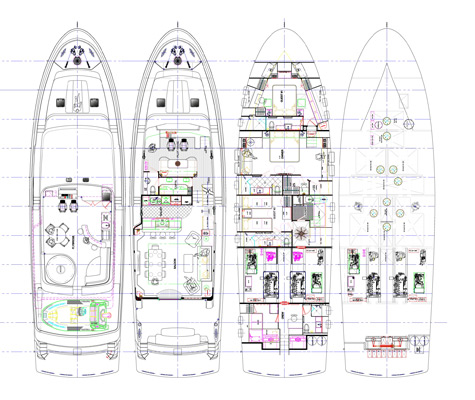 As far as propulsion goes the N78 is set! It comes equipped with twin engines and is capable of traveling more than three thousand miles before a refueling is even necessary. Though this boat is mostly designed for the European audience with its European flair and internals, it is believed that American audiences will be equally thrilled with this new addition.
As you can see, this is another great addition to the already impressive Nordhavn lineup. It might only be a concept, and it might not be a five star hotel on the water, but that doesn't mean it can't entertain a small family for several days at sea. Look for the release of this boat in the future, and know that you can expect many other great releases from the company in the future. Though life on land might be boring, life on the seas is never such, as this boat will soon prove.
Specification of the Nordhavn 78:
LOA: 23.8 m/78′-1 1/4″
LWL: 21.03 m/69'0″
Beam: 6.4 m/21'0″
Draft: 2.34 m/7'8″
Displacement: 114.3 T/252,000 l
Fuel capacity: 21,575 l/5700 gal
Water capacity: 2,271 l/600 gal
Power: 425 HP@1800 RPM
* * *
Related links:
Nordhavn
Photo: nordhavn.com