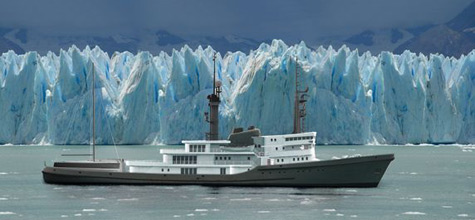 Genoese Designer Stafano Pastrovich has created an unusual concept by taking a 77 meter Ocean Tug, and turning it into an Explorer Superyacht. This designer has also collaborated with Kusch yacht on the Le Grand Bleu, a 57 meter yacht, the SenseS with Martin Francis, and was the chief designer for the Wallypower 118.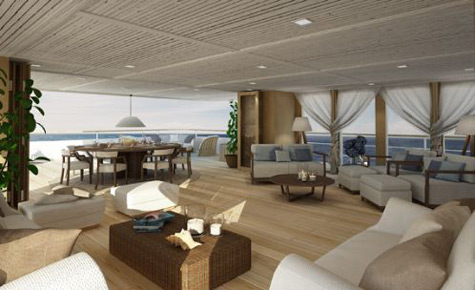 Basically, they wanted to keep with the original lines of this ocean going tug. It was built during the 1970′s as a deep sea salvage tug, one of four created by the Bugsier Shipping and Salvage Company. Geonese wanted to keep with the forms that identify the tug, the rub strake on the hull, the sheer line, twin masts as well as the vertical bulwarks and the funnel. They had to have intimate knowledge of the whole ship in order to prepare for the refit, to keep from over designing, or adding too much to the interior as this will affect the exterior lines and properties.
Great care was given to replicating the original windows, as well as the hull. They focused on designing a whole new interior aft of the funnel, and this new superstructure was located at a lower height as compared to the forward section. Another consideration was how to take a working tug and make it more fun for leisure cruising. Luckily there was plenty of room, considering the beam of the ship is almost 14 meters.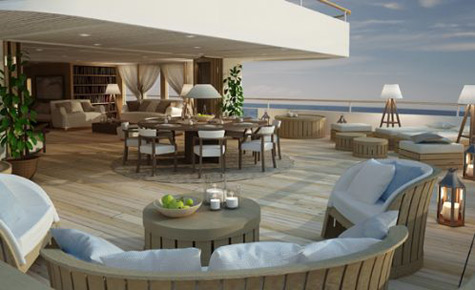 The results have been remarkable. The general arrangement of the interior was revisited, with more flexibility of space in the living quarters, dining, and sleeping areas, as well as making the whole arrangement flow smoothly. There are also more intimate spaces, so the owners are able to check their email, read the paper, or have a nice quiet meal with family or friends.
The whole interior is very casual, and the open plan makes use of natural textures, materials, as well as a very neutral color. This is accomplished with lined fabrics, white washed oak, as well as bamboo. In order to reduce the amount of corridors that were in the original tug, there are library shelves, plus plenty of day sofa furnishings. There are also folding doors, both on the upper and main decks that open up the spaces for a large beach house look. This also created a way for the indoor and outdoor spaces to unite in order to give the owner as well as the guests full access to the main attraction, the ocean environment.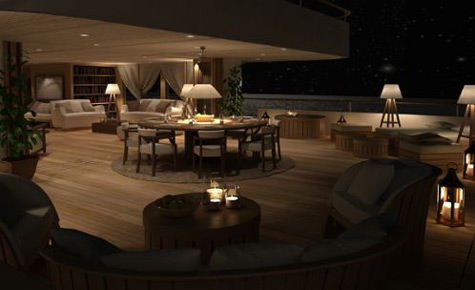 This is one wonderful yacht that really retains the look of an ocean going tug. It is rather beautiful in its simplicity, and when this yacht comes into port, it is sure to turn heads, and make people give it a second or even a third glance.
* * *
Related links:
Pastrovich Studio

Photo: pastrovich.com